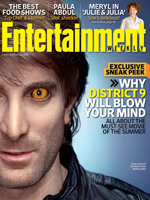 Neill Blomkamp's "District 9" is primed to explode on the cinema landscape next week.  At least I hope it is.  I'm never good at reading the populist pulse, especially as it pertains to predicting box office and things like that, but on a $30 million budget, and being an exceptional piece of work that should become a word-of-mouth success on home video if not theatrically, I can't imagine the film won't pull a profit.
Entertainment Weekly's cover story this month features actor Sharlto Copley, praised on high in this space during last month's San Diego Comic-Con International, with the fetching headline: "Why 'District 9' will blow you away."  That's a good start.  I know plenty of people who ask me daily, "What's the deal with 'District 9?'"  Breeding intense curiosity is always a win.
Scott Bowles sat down with the film's producer, Peter Jackson (who made his first ever trip to Comic-Con to promote the film), in San Diego and got some great stuff, particularly Jackson's revelation that working on the film reminded him of his guerrilla filmmaking roots.
Here's what he had to say on that front:
To be honest, it made me realize how much I miss guerrilla filmmaking…I miss the chances I used to be able to take…We were taking such chances back then…You weren't worrying about a $150 million budget that everyone wants to get their hands on. Or appealing to a usually white demographic to make the most money possible. This is what I've always loved doing: making movies for the geeks.
"District 9" hits US cinemas next Friday, August 14.  Stay tuned next week for a one-on-one interview with Sharlto Copely, a focused, grounded guy with a hell of a future.