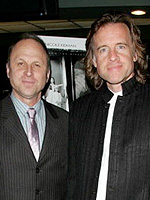 We can all stop using "Unnamed Bob Berney/Bill Pohlad Company" to classify the domestic distribution of Jane Campion's forthcoming "Bright Star."  Apparition, as the new indie distributor is calling itself, had something of a coming out party today announcing the new moniker and, the real newsy item, that Terrence Malick's "The Tree of Life" will be one of the films domestically released under its banner.
Bob Berney is one of the good guys, so I was pretty bummed when Picturehouse closed up shop last year, not least of all because it was one more death knell for indie cinema but because a smart guy didn't have a ship to steer.  The news of a new company, with partner Bill Pohlad, was good enough for me, but only Campion's film (acquired at Cannes) was in the mix.
No release date has been set for Malick's film yet, but the film is surprisingly expected to receive a 2009 bow.  There was confusion for a while in some quarters that Summit Entertainment would be releasing the film in the US, but that company was only ever involved with the international release, I believe.
Full press release after the jump.
POHLAD AND BERNEY LAUNCH NEW MOTION PICTURE DISTRIBUTION COMPANY APPARITION AND ANNOUNCE OUTPUT DEAL WITH SONY PICTURES WORLDWIDE ACQUISTIONS GROUP
New Company to release "The Tree of Life" by Terrence Malick and "Bright Star" by Jane Campion
NEW YORK—August 6, 2009—Bill Pohlad and Bob Berney have launched a new motion picture distribution company, Apparition, which will acquire and release films.  The new company's initial slate includes The Tree of Life, written and directed by Terrence Malick, starring Brad Pitt and Sean Penn, and Jane Campion's critically acclaimed Bright Star. The new banner has also formed an output relationship with Sony Pictures Worldwide Acquisitions Group (SPWAG) for all domestic ancillary rights.
Pohlad and Berney created the new theatrical releasing company to be a fiercely independent, artist friendly distributor, one that champions the highest quality films and markets them with unmatched passion and commitment.
"Bill and I are creating a company where the art of filmmaking is truly a priority," says Bob Berney. "The birth of a new company that works in concert with artists while employing creative marketing strategies is a winning combination and is the essence of Apparition."
"The goal here was to create a company that can be a real home for filmmakers.  A company that has a sensitivity and passion for the work as well as an ability to bring it to the marketplace with ingenuity and creativity." said Pohlad.  "Bob already has a reputation for having those qualities, and it was his involvement that really made this happen."
"Working with filmmakers like Terrence Malick and Jane Campion right out of the gate is a great indication of the kinds of relationships that we hope this company will be built on," said Berney.  "And our relationship with Sony is the same.  They are a bold company with tremendous assets and reach.  But they also share our belief in championing extraordinary product."
Also joining Apparition are Dan Lange, Bill Thompson and John Lange, in distribution; Sara Rose, in acquisitions and Jeanne R. Berney, Kirk Iwanowski and Molly Albright in marketing.
Written and directed by Academy Award nominee Terrence Malick, The Tree of Life is a mystical epic starring Academy Award nominated actor Brad Pitt and two-time Academy Award winner Sean Penn, and introduces Jessica Chastain.  The film tells the story of a family who must come to terms with a devastating loss. In doing so, they discover life's most important lessons of unselfish love and forgiveness. The film is co-produced by Pohlad, Sarah Green, Brad Pitt, Dede Gardner, and Grant Hill.
Written and directed by Academy Award winner Jane Campion, Bright Star is a riveting drama based on the three-year romance between 19th century poet John Keats and Fanny Brawne, which was cut short by Keats' untimely death at age 25. Ben Whishaw (The International, I'm Not There) and Abbie Cornish (Candy, Elizabeth: The Golden Age) star as Keats and Brawne, respectively.  The film, which premiered at this year's Cannes Film Festival, was produced by Jan Chapman and Caroline Hewitt, and will open September 18.
Bob Berney has been a preeminent force in the international film world for more than two decades, bringing a multitude of smart, challenging and entertaining films to the screen.  In the past decade, he has founded and operated some of the key film companies dedicated to releasing independent productions, including Picturehouse, Newmarket Films, and IFC Films. The films he has shepherded include La Vie en Rose, Pan's Labyrinth, A Prairie Home Companion, Mongol, The Passion of the Christ, Monster, Whale Rider, My Big Fat Greek Wedding, Y Tu Mama Tambien, and Memento.
Pohlad has established himself as an esteemed producer of innovative, independent films, through his production company, River Road Entertainment.  Pohlad's remarkable credits combine critical acclaim and commercial success, and include Ang Lee's Brokeback Mountain, Robert Altman's A Prairie Home Companion, and Sean Penn's Into the Wild. Pohlad recently produced the eye-opening documentary Food, Inc., currently in release and has completed principal photography on Doug Liman's Fair Game, starring Sean Penn and Naomi Watts, and is currently in production on The Runaways, starring Kristen Stewart and Dakota Fanning.