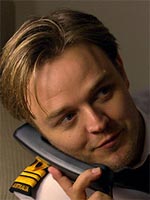 In autumn last year, I lost my heart to a miniature Australian gem called "Three Blind Mice." At the end of a long day of press screenings, I sleepwalked into a theater at the London Film Festival not particularly eager to see a film I knew nothing about. A brief blurb describing it as a zany comedy about three naval officers on shore leave before shipping out to Iraq did little to whet the appetite.
A few minutes later, I was startled into full consciousness as writer-director-star Matthew Newton's alternately riotously funny, sombre and shocking study of masculinity in crisis burned up the screen with whip-smart Pinteresque writing and dazzling ensemble work, earning a spot on my "best of 2008" list in the process.
I wasn't the only one, either — the entire audience was abuzz with talk of the film after the screening, and it duly claimed the FIPRESCI Critics' Prize at the festival.
And since then? Well, nothing. A few more festivals, little international distribution to speak of (IFC In Theaters apparently picked it up, but you'd be forgiven for not noticing), no further laurels. Now comes the unbelievable news that the film is struggling to find theatrical distribution even in its home country.
It goes without saying that the film deserves better. As a study of the varying psychological imprints that military life leaves on men — particularly in the context of the Iraq conflict — "Three Blind Mice" could be viewed as the jazzier, interior flipside of "The Hurt Locker." (They'd sure make a great double feature.)
In addition to his filmmaking smarts, Newton recalls the young Russell Crowe on screen, while co-star Gracie Otto displays all the physical and technical gifts required to be the next major Australian export a la Cornish. It's a hard little picture, but not an unmarketable one. Seek it out.