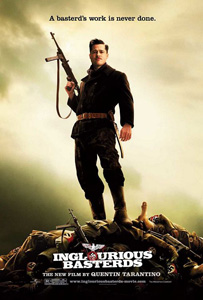 Quentin Tarantino's "Inglourious Basterds" isn't as indulgent as "Death Proof" or "Kill Bill: Vol. 2," but it doesn't have the filmmaking panache and wit of the moving image to forgive it its sins like "Kill Bill: Vol. 1," either.  It's a slightly more contained bout of silliness, but it's silliness nevertheless.
The film is trademark bloated Tarantino, featuring scene after scene that could have been curtailed or expedited, which might have significantly affected an off-putting 150-minute running time.  But Tarantino lost his "no" men years ago, while distribution honcho Harvey Weinstein continues to serve as an enabler of sorts.
So more of the same is what we get.
But to look deeper at "Inglourious Basterds" is to find a world that might appeal to an angst-ridden child, perhaps.  The rage that courses through its veins is pure, concentrated tantrum, and somewhat passé at that.  After all, what thematic purpose is served by a film — however brazen and even "fun" in its historical revisionism — that takes relentless aim at the Nazis, of all foes?
The director might have found suitable commentary with a sense of parallel or metaphor, something, anything connecting the on-screen carnage to our own state of pent-up hatred toward foreign aggressors, for instance.  But that doesn't seem to be visceral enough for Tarantino, who takes glee at a prolonged take of a human head being scalped, or the rat-a-tat obliteration of another under a hail of gunfire.
Boys will be boys, I guess.  But when will that cease to be enough for Tarantino apologists?
The narrative is pretty straight-forward: Lt. Aldo Raine (Brad Pitt) heads up a squad of Jewish American soldiers — "The Basterds" — to spread terror throughout the Third Reich with a healthy dose of horrific violence.  Meanwhile, the Nazis' Col. Hans Landa (Christoph Waltz) — "The Hunter of the Jews" — seeks out any stowaways left in the occupied French countryside.  The action builds toward a cinema-set finale and childhood revenge wrought, but it's a tedious journey throughout.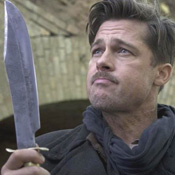 This isn't to say there aren't the usual sporadic artistic strokes.  An opening scene toys with building tension (thanks in large part to Waltz's unsettling performance) like no other, a clinic for milking every beat for its full worth, and yet refusing to overstay its welcome.  Hitchcock would be proud.
Elsewhere, a riveting climax plays like a Nazi exodus to Dante's Inferno, David Wasco's production design forming a perfect storm with Bob Richardson's photography, the haunting laughter of vengeance cackling away.
It's affecting stuff, a nice tip of the hat to the filmmaker's worship of the cinema, and proof of Tarantino's undeniable abilities as a visual storyteller who thinks outside the box.  But…diamonds in the rough.
Brad Pitt's histrionic southern swagger seems almost beneath him here, to say nothing of the fact that the performance is quite awful at times.  The actor has chosen to put virtually the entire portrayal into the vocal representation, offering up, ultimately, a caricature more so than a performance and one that doesn't exactly provide any insight into the narrative or its themes.  Nor does it stand out as an intriguing romp within.
The supporting cast is largely capable, though certainly never exceptional, but the aforementioned Waltz definitely deserves the high marks he received out of this year's Cannes Film Festival.  It's a vivid new spin on a classic villain persona, the still-waters-run-deep kind of stomach-twisting presence that takes real skill to pull off.  Waltz makes it look pretty easy.  His resemblance to Tarantino regular Tim Roth is neither here nor there but interesting nevertheless.
Elsewhere, the always fantastic Daniel Brühl conveys a rather complicated character despite the thread being wasted and appearing disposable in the grander scheme of the film.
But the entire enterprise sinks under a sense of frivolity that can't be shaken.  Though fortunately Tarantino has, for the most part, done away with an increasing tendency to wink at his audience through his heavily influenced work.
He instead seems to have locked himself in his room, oblivious to reaction.  It matters to him and him alone, which, to some extent, is rather admirable.  But is anyone actually paying attention anymore?
And truly, heaven help him if the final phrase of "Inglourious Basterds" is in any way representative of the director's impression of his latest film.  Delusion might have gotten the better of him if so.