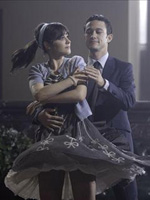 It seems the folks behind the summer romance "(500) Days of Summer" have been up to some extra-curricular activities as of late.  Director Marc Webb and actors Joseph Gordon-Levitt and Zooey Deschanel recently put together a short film inspired by heist cinema and movie musicals that is…frankly kind of pointless.  But it served as a nice exclusive for USA Today and will surely be a delightful diversion for the film's many fans.
Here's a taste of Anthony Breznican's story:
Gordon-Levitt plays a stoic man in a neat blue suit, turning to crime in a moment of absolute desperation. Deschanel is the gorgeous, wide-eyed teller, disarming the dangerous man (metaphorically speaking) in a playful, twirling, fox-trotting dance through the stuffy, starkly lit marble lobby. The other dour denizens go about their business unaware.

Providing the soundtrack: the song Why Do You Let Me Stay Here? by She & Him, Deschanel's retro-rock duo with musician M. Ward.
This aside was also particularly interesting:
Deschanel and Gordon-Levitt say they hope to team up repeatedly and have aspirations of being a regular screen couple, like Fred Astaire and Ginger Rogers or Spencer Tracy and Katharine Hepburn.

They're not a real couple, but they're good at faking it.

"I think it's great to have continuous collaborators," Deschanel says. "It's a shortcut that makes it so much more fun. The job is much easier when you can go to set and be like, 'Ah, Joe!'"
I'd love to see something like that happen again.  More on the making of the short here.  Take a look: