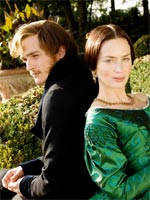 Toronto is obviously digging the corsets this year. Weeks after Jon Amiel's Charles Darwin biopic "Creation" was announced as the opening film of this year's Toronto International Film Festival, fest organizers have revealed that Jean-Marc Vallée's "The Young Victoria" will close proceedings.
This choice of bookends gives an odd symmetry to the festival schedule: both films are (or appear to be, since I haven't seen "Creation" yet) old-fashioned Anglocentric period biopics with minimal buzz.
The choice of "Victoria" is an unsurprising one, given that Vallée is a hometown boy whose last, considerably more interesting, effort "C.R.A.Z.Y." won the Best Canadian Feature award at the 2005 festival. But it's a disappointingly stiff choice for such a prime spot.
You may remember that I reviewed the film upon its UK release back in early March. Apart from the requisite pretty set-dressing and some marvelous work by the increasingly impressive Rupert Friend, it's pretty much dead in the water, with indifferent writing and an anorexic narrative doing little to bolster a surprisingly wan lead turn from the usually spiky Emily Blunt. Home favoritism has clearly given it this spot, and while some may raise their hopes for the film based on the news, I wouldn't hold your breath.
A more exciting Canadian prospect at the festival is the world premiere of Atom Egoyan's "Chloe," which teams the sporadically brilliant Oscar-nominated auteur with "Secretary" screenwriter Erin Cressida Wilson for an erotic thriller about a woman who tests her husband's fidelity by hiring him an escort.
Headlining are Amanda Seyfried, Julianne Moore (who should arrive fresh from walking the Venice carpet for Tom Ford's "A Single Man") and the currently ubiquitous Liam Neeson. A new Egoyan effort is a wildly hit-or-miss proposition these days, but at least there's actually something for cinephiles to invest their hopes in here.
Of course, our own man in Toronto, John Foote, will be covering all the festival goings-on for us in September — as a keen Egoyan fan himself, I'm sure he's got an eye on this one.