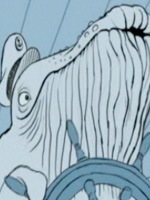 One of the question marks left dangling after the untimely passing of Heath Ledger in January of 2008 was the music video for Modest Mouse's "King Rat."  Conceived by the late actor, the video seemed to be lost to the winds as the band, understandably, didn't want to be seen as capitalizing on the star's death.
It was announced back in March, after some admirable persistence from the guys at The Playlist, and an eventual pick-up in the pages of Spin Magazine, that the piece would finally have its day in the sun.  And today, we finally get a look.
Exclusively released on MySpace, the video serves as a piece of activism in its role-reversal depiction of whaling practices.  It's pretty staggering, actually, and, of course, dovetails perfectly with the "Cove" conversation that's kicked up on the site yesterday and today.
Check out the video and the full press release after the jump.
The release:
In January of 2007, while visiting his homeland of Australia, Heath Ledger presented Isaac Brock of Modest Mouse with an idea to direct a video for their yet-to-be-released song 'King Rat'. Heath's vision, brave and unapologetic in its nature, would marry his love of bold and original music with his impassioned stance against the illegal commercial whale hunts taking place off the coast of Australia each year. Always one to operate from his heart and take a stand for what he cared deeply about, Heath's intention was to raise awareness on modern whaling practices through a potent visual piece without having to say a word. It was his way to let the story, in its candid reversal, speak for itself.

The video was fully conceived down to the last detail but unfinished when Heath passed away in January of 2008. In the interest of fully realizing Heath's final work as a visual artist, THE MASSES (a film and music company which Heath was a partner in) finished the video in his honor, with the support and advocacy of Isaac Brock.
The video: