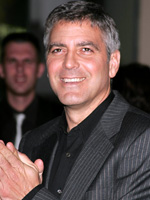 Yesterday's Oscar update featured a number of prediction hikes for Jason Reitman's "Up in the Air," including firm placement among the predicted Best Picture, Best Actor and Best Supporting Actress nominees.  As I wrote in the column, the film has been getting great notices out of test screenings and the studio seems to be pretty invested in an awards run.
Today (and I never do this, but it's positive, so I'll go for it) Jeff Wells has received a test screening review of the film and posted it up at Hollywood Elsewhere.  It's a giant gusher.  The guy calls George Clooney's leading performance "Cary Grant crossed with Warren Beatty" and the role one the actor "was born to play."  Even though it was a test screening, the reviewer calls it a "near perfect film" and describes a trippy dream sequence that sounds creatively intriguing and narratively fascinating.
In a nutshell, the guy is head over heels for the flick.  Take it or leave it, but it sounds mostly legitimate to me.
Here's the lead-in:
Let me begin by saying that this summer has been a bust. The only highlights being smaller films like Moon and The Hurt Locker. The major tentpoles have all had problems. Even one of the better ones like Star Trek has some glaring plot problems. So when something like Up In The Air comes around it restores my faith in film.

"This is only Reitman's third film and he's showing such a level of confidence here that it's almost scary. Where does he go from here? UITA is going to be on everyone's Ten-Best list, and Clooney will be nominated for Best Actor. Clooney has never been so good. In fact, I feel he was born to play this character, a charmingly aloof business-track smoothie called Ryan Bingham.
Read the rest at Hollywood Elsewhere.  And in case you missed it, be sure to check out Guy's Page to Screen review of Walter Kirn's source material here.