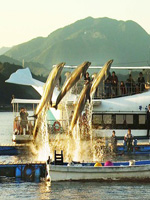 Yesterday I opened my heart regarding Louie Psihoyos's documentary "The Cove," so it's understandable that I'd be eager to see what the local outlets have in the way of media coverage as the film moves further into its limited run.
Unfortunately, this Rachel Abramowitz story at the Los Angeles Times isn't particularly insightful and covers a lot of the same behind-the-scenes material revealed in the film, but it nevertheless serves as a pretty good primer for those interested in the project.  In particular, Abramowitz talks to Psihoyos about the covert mission at the film's center, which transforms the picture into something of a thriller, the seams of documentary filmmaking seemingly disappearing, making way for a compelling narrative.
I think it's important to characterize this film properly, because I've talked to a couple of people in the last few days who express an ambivalence to see it because of personal reasons, unable to handle the depictions of dolphin slaughter.  That scene is held until the end and is all of maybe three or four minutes.  It's used effectively as the climax to a riveting espionage tale.  This is not a gruesome picture.  You can handle it.  Trust me.  Go see it.
Here's Abramowitz on how the caper unfolded with something of a rag-tag crew of dedicated professionals:
…[Activist Ric] O'Barry was on his way to Taiji, where he's been going several times a year in an effort to stop the slaughter, often with journalists in tow, and he invited Psihoyos to join him. Seeing the filmic potential in the trip, Psihoyos signed on, although the acclaimed photographer first decided to take a three-day filmmaking course.

"We're all professionals, just not at this," says Psihoyos, with a laugh. "I don't know if this movie could have been made by a professional crew. A professional crew would have turned around and ran. A producer would say 'This is nuts. How long is it going to take? How much is it going to cost?' There were just too many unknowns. The risk of getting hurt or jailed was daily. It didn't take filmmakers to make this film. It took pirates."

Indeed, the film depicts two commando missions into the cove, which is surrounded by razor-wire fences and policed by vigilant fisherman, desperate to keep their business out of the spotlight. There were actually 14 cloak-and-dagger operations into the protected cove to accumulate enough footage, and a dedicated runner who every day personally and craftily spirited the film out of town. "The reality was a lot scarier than the film shows," Psihoyos says. "We got ran out of town by the police twice."
Check out the rest here.  And for kicks, here's LA Times critic Kenneth Turan's video review of the film.  Again, not particularly enlightening, but I'm not sure he's totally comfortable with these yet (his print review here):
Meanwhile, over at Take Part, actress Hayden Panettiere (who is featured briefly in the film) blogs about her personal fight to save whales and dolphins:
There is a brutal practice in Japan that has unnecessarily and painfully taken the lives of tens of thousands of dolphins and other small whales. They blind and frighten these helpless animals by hammering on metal poles in the water, driving them into small coves where they are trapped in nets and then killed.

I experienced this first hand when Jeff invited me and Isabel Lucas, our Australian spokesperson, to join him on a trip to the notorious dolphin-killing cove of Taiji, Japan in October 2007.

We took part in a peaceful paddle-out ceremony that was being led by fellow campaign spokesperson and Surfers for Cetacean's co-founder Dave Rastovich.

There, we, along with three other activists, paddled out into the blood red waters where over 30 pilot whales had already been slaughtered. We honored the beautiful animals that had lost their lives there.

During our peaceful ceremony, the Japanese fisherman, unprovoked, became violent and physically aggressive towards us. After being hit with large poles and threatened with spinning boat propellers, which came inches from us, we held our ground. The resulting media attention generated by the incident was massive, and the support from people around the world has been incredible.