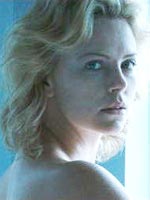 Thanks to the reader (modestly unnamed) who sent me a reminder of the recently released U.S. trailer for Guillermo Arriaga's "The Burning Plain," a film that has endured a wildly uneven buzz trajectory since debuting at Venice nearly a year ago.
Hailed out the gate as a strong 2008 Oscar vehicle for Charlize Theron, despite mixed notices for the film itself, it then dropped from view entirely, languishing in distributor-less purgatory for months on end. Its UK release came and went in March with zero fanfare and tepid reviews, and its U.S. prospects looked little better.
I offered some thoughts on the film then, deeming it worthy as performance showcase (young Jennifer Lawrence, in particular, is a revelation) but dramatically thin and structurally obvious as storytelling.
But with a Stateside distributor (Magnolia) finally secured and a September release pending, interest in the film seems once more to be spiking. You'll notice today that Charlize Theron has crept back into Kris's Best Actress chart, while David Poland stated recently that "cops should be called" if she's not nominated.
(Very fine as she is in the film, I can't quite match Poland's enthusiasm — of the film's three female leads, I think Theron is saddled with the most hazily developed character. But then, Theron is both a gifted enough actress and popular enough with the Academy to land a nod for a role — and film — as feeble as "North Country." And "The Burning Plain" is a hell of a lot better than that. So who knows?)
Anyway, like the rather elegant (if faintly derivative) poster that was unveiled last week, this trailer does a solid job of positioning the film as solid meat-and-potatoes fare for the less adventurous specialty audience. If the second round of reviews in September pick up on Theron, there could be something afoot here. Or it could just come to nothing. Again.
The trailer is below. My not-quite-review of the film is here.