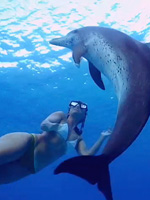 After week after week of missed opportunities to see Louie Psihoyos's harrowing documentary "The Cove," I finally got around to it last night at the Arclight (one of only two theaters currently showing the film in Los Angeles). I was absolutely floored. Devastated, rocked, affected — it's the reason films are made.
I won't get into a proper review now since the film is in release and plenty of opinion pieces have already landed, but I haven't felt so galvanized by a cinematic experience in a long time. And as opposed to last year's "Dear Zachary," which was equally effective but left the viewer with an inevitable feeling of helplessness, "The Cove" has me wanting to empty my wallet, quit my petty job, detach myself from all amenities and actually DO something.
It got me thinking, too. This month's Oscar update obviously places a bet on Michael Moore's "Capitalism: A Love Story" to benefit from the expanded Best Picture category. But I think the Academy has a real opportunity to move the needle on a serious issue by shining its spotlight on Psihoyos's film.
Many argue that populist cinema will finally get its Oscar day in the sun with five extra nominees. Others, myself included, anticipate more of the same AMPAS wheelhouse films to slide it. But what if the 10-nominee paradigm gives more credence to agenda-driven voting practices? And really, given that the Academy isn't exactly concerned with "best" these days, who can argue with an opportunity to actually say something with the Best Picture slate?
Of course "The Cove" has a steep climb ahead of it on that front, but I'll be here banging the drum regardless. This film needs to be seen by as many people as possible. And the Academy is in the unique position of ensuring that in some way.
Which reminds me, I don't know what the behind-the-scenes story is on how Lionsgate and Roadside Attractions attained the distribution rights to the film, and Lord knows, they are doing God's work by connecting "The Cove" to the world. But it's nevertheless a shame that a major film distributor isn't behind the release. The market should be saturated with Psihoyos, Ric O'Barry and their mission.
See it.
Here is the display in the Arclight lobby showcasing a couple of the hidden cameras Psihoyos and his pals at Industrial Light & Magic put together to capture the gut-wrenching slaughter of dolphins in Taiji, Japan: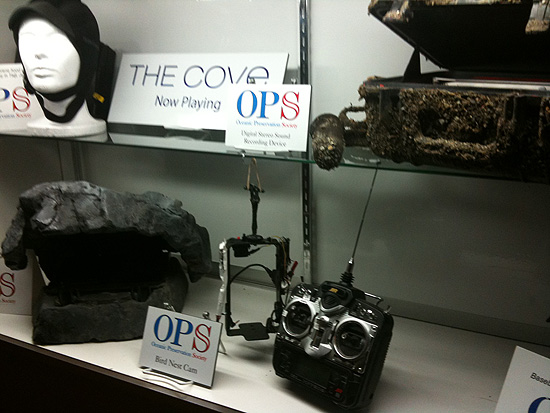 And the trailer:
Learn more about the world depicted in "The Cove" at Take Part.  Additionally, I'll probably feature this widget on the main page throughout the season, but once you see the film, come back and sign the petition/group letter to key leaders. If you're so compelled, that is. I certainly was: