Another month, another step closer to the awards season.  As the summer winds down and the industry slowly begins to square itself with the off-season's bombshell Oscar news, the picture becomes a little clearer.  Kind of.
Universal Pictures, in a move speculated upon endlessly by now, shuffled two of its contenders — Paul Greengrass's "Green Zone" and Joe Johnston's "The Wolf Man" — off to 2010.  As Anne Thompson shrewdly noted in a recent item, the decision likely has everything to do with a numbers game.  The studio has experienced a rocky two quarters this year and things aren't necessarily looking up.  Some think, in the case of "The Wolf Man," the shift was made to avoid another box office misfire in 2009 (as by now, with push after push, the film is beginning to smell fishy).  Others say the "Green Zone" shift had a lot to do with "The Hurt Locker"'s release pattern.
Whatever the case, the evacuations change the Oscar landscape ever so slightly, giving us just a few more talking points in the vacuum of August before we have anything of value worth discussing when the fall festival season hits in less than a month's time.
Universal is now left with two critically divisive, commercially dubious titles in Michael Mann's "Public Enemies" and Judd Apatow's "Funny People" to hawk for awards consideration, effectively (if you're asking me, though I realize no one is) taking the studio out of the game this year — or, at the very least, making the hill steeper.
But taking note of the studio awards landscape, it doesn't seem to me that anyone else is on surer ground.  As I look out at the many contenders and the campaigns being prepared for them, it appears the entire industry will be dealing with unconventional approaches and product to go along with the new changes in the Best Picture category (and all the headache that comes with them) this season.
Universal dependent Focus Features, which recently unveiled an impressive new trailer for the Coen brothers' "A Serious Man," has a considerably lighter awards load this year.  In some ways the studio seems more fiscally focused than ever, with Richard Curtis's recently re-titled "Pirate Radio" getting a re-edit for commercial benefit and Ang Lee's "Taking Woodstock" looking to capitalize on the concert's 40th anniversary for a box office boost.
However, those films aren't being positioned as awards hopefuls.  And with a Best Picture push planned for Henry Selick's animated "Coraline," as well as a Coen effort more akin to "Barton Fink" than "No Country for Old Men," perhaps eschewing conventional awards strategies will pay off in an unconventional season.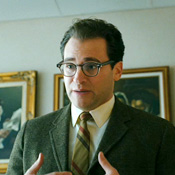 Paramount Pictures, meanwhile, hasn't kicked up a lot of awards dust in the off-season, largely because no one has seen much of Martin Scorsese's "Shutter Island" and Peter Jackson's "The Lovely Bones."  But it also has plenty to do with avoiding the "frontrunner curse" that has taken down contenders such as "The Curious Case of Benjamin Button," "Charlie Wilson's War" and "Dreamgirls" (two of them Paramount films, you'll note) in recent years.
However, Jason Reitman's "Up in the Air" is beginning to stir up excitement as a departure from outright comedy and a growing-up moment for the director.  Comparisons to Alexander Payne are beginning to bubble up (test screening reactions surfaced last week), and though a Toronto exhibition will ultimately tell the tale, hopes are high for the film as an Oscar heavy amid giant names like Scorsese and Jackson who sport films that are, again, more focused on making a profit than landing awards.
The Weinstein Company is certainly on dicey waters for the moment, despite having one of the perceived frontrunners in pocket.  "Nine" represents a make or break moment for the distributor, whose financial distress has been touched upon frequently in the media.  I'm sure the Weinsteins would prefer the limitless checkbook they enjoyed under the Disney banner for years to parade their contender out to the masses, but, again…convention isn't ruling the day this year.
Fox Searchlight has a film in Mira Nair's "Amelia" that could be seen as a major player from afar, but a prestigious biopic isn't exactly in the studio's wheelhouse and the film could come up short, leaving Wes Anderson's stop-motion Roald Dahl adaptation "The Fantastic Mr. Fox."  Perhaps a festival pick-up lies ahead, but from here, the studio certainly seems to be out of its element.
Fox and James Cameron have a lot riding on "Avatar," a film that, if it were to be nominated, would certainly be one of the most unconventional nominees in recent memory.  But once again, unsure ground.  After seeing admittedly impressive footage at Comic-Con, I'm no longer willing to place that bet.  Some things are too creatively progressive for this bunch.
The only studio that seems to have a tried-and-true production strategy on deck is Warner Bros., with Clint Eastwood's "Invictus," which, like "Million Dollar Baby" and "Gran Torino" before it, hasn't been seen by anyone who's talking and won't likely cross the press's path until December.  And say what you will about "Gran Torino"'s awards nose dive, the film made money.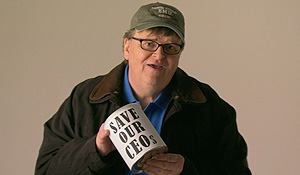 Then again, even Warners could end up with a highly unconventional contender if Spike Jonze's "Where the Wild Things Are" capitalizes on its promise and captures the collective heart of the Academy.  But campaigning "Wild Things" for Oscar is a far cry from campaigning "Invictus," "Gran Torino," "Million Dollar Baby," etc.  And the "Dark Knight" campaign from last year yielded disappointment on a dreary January Thursday, so perhaps Warner strategists would be more comfortable sticking with what they know.
Sony has the delightful "Julie & Julia," but it has also had a hell of a time translating the usual Oscar bait into Best Picture bids as of late.  A late summer comedy will have a trying time with that in mind.
So with the majors out of the way, we now stumble onto the Overtures, the Summits, the Sony Classics, the Roadsides and the Lionsgates, smaller studios (with even smaller budgets, mind you) that happen to pepper my list of the predicted 10 Oscar nominees and have a healthy presence on the full chart as well.  Hell, Bob Berney's company doesn't even have a name yet, but "Bright Star" nevertheless seems a safer bet than most of the studio product.  It's like 1996 all over again, in many ways.
Or maybe that's all wishful thinking on my part.  Block voting and voting mandates from the studios (yes, it happens) could just as easily flood the category with three from this studio, two from that, etc., making for a giant self-congratulatory (or, in these trying times, self-pitying) moment.  But we're still a long ways off, and as exciting as the guessing game is, there are a number of fascinating projects on the way that can't get here soon enough.  If we're still talking Oscar when the dust settles, great.  If not, whatever.
Right?
After this month's chart update, we've got one more stab at things before we start to make actual educated guesses on this stuff.  For now, it's still very much — you'll forgive the pun — up in the air.  We'll revisit things once more on August 31, just before Guy ships off for Venice, I ship off for Telluride and John ships off for Toronto.  When the dust settles somewhere in the middle of September, maybe we'll actually know what we're talking about.  Until then…

Main Category Charts
Technical Category Charts
The Contenders
Oscar Prediction Archives