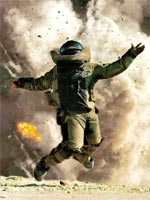 Anticipating a fresh batch of "Hurt Locker" press ahead of the film's UK release later this month, The Times's Kevin Maher takes an angle on the film that I'm surprised hasn't been more of a media issue so far: the fine line the film walks between conscientious political filmmaking and gung-ho entertainment.
One of the things I admire about Kathryn Bigelow's film is its forthrightness in depicting the visceral thrill of warfare: it's a courageous approach to take in a cinematic landscape where heavily weighted anti-war statements are de rigueur.
"The Hurt Locker" paints its own unflattering portrait of U.S. military involvement, of course, but it remains resolutely an action film first — one more interested in capturing the physical sensation of combat than miring itself in rhetoric.
Maher, however, impartially poses the question of whether or not it is "morally right" to make an entertaining thrill-ride of a movie about a conflict that remains a sensitive political issue.
I personally don't see much of an argument for the opposition. The film seeks to convey the soldier's experience by immersing the viewer in the physical specifics of front-line duty. On that level it's a success: I left the cinema with a greater understanding of these men and the hardships they endure than I did when I walked in, so the film is hardly neglecting its obligation to inform as well as entertain.
It simply does so through the lens of a genre that strips political context in favor of urgent day-to-day action: as screenwriter Mark Boal aptly notes, "Soldiers don't talk about who they voted for when they're getting shot at." As I said in my review, it's this rather pragmatic approach that makes "The Hurt Locker" less a vogue-ish "Iraq movie" than a more universal study of warfare that happens to use Iraq as its prism.
Maher examines both sides of the argument by interviewing a range of experts from both cinematic and military ends of the spectrum. Documentary filmmaker Deborah Scranton's viewpoint pretty much lines up with mine:
It is showing you the reality of what asymmetrical warfare looks like … From the moment these guys go outside the wire, they are the front line — 24/7, for the entire time that they're there, they are under siege and in danger. From this perspective a film such as The Hurt Locker is very valuable.
However, Toby Nunn, a National Guardsman with Iraq experience, has some reservations. Though he's impressed by the film's avoidance of politicking, thereby deeming it superior to "atrocious and disgusting" titles like "In the Valley of Elah," he fears that the film's adrenalin-hinged narrative offers a misleadingly glamorized depiction of combat:
There are guys who like the adrenalin rush more than they admit … But for the majority of soldiers, adrenalin is just a survival mechanism, not an addiction. And the guys who return to Iraq aren't going back there to get the adrenalin, but typically because they have a personal attachment or connection to the other men already there.
Interesting stuff. More here.