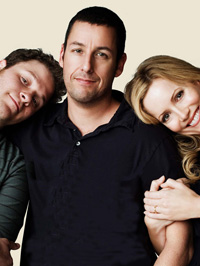 *All historical figures are adjusted to today's dollars.
It was no laughing matter at the box office this weekend as Judd Apatow's "Funny People" opened at the top spot with a disappointing $23.4 million. Not only is that lower than both "The 40 Year Old Virgin" and "Knocked Up," but it's also the lowest figure to top this particular summer weekend since "A Time to Kill" in 1996. Don't forget that "Virgin" and "Knocked" cost $26 million and $30 million, respectively, while "Funny People" carries a price tag of $70 million.
Bottom line: this film didn't perform like an Adam Sandler summer comedy at all. This is a guy who has opened six low-brow comedies in the summer months and had an average debut of $46.0 million. "You Don't Mess With the Zohan" opened with $38.5 million, for Pete's sake. Even his notorious misfire "Little Nicky" opened to $21.4 million. So no matter how Universal wants to spin this, it's not pretty. It dropped from Friday to Saturday, indicating that fanboy rush and word of mouth is not going to be great enough to keep it in theaters much longer than Labor Day.
I think a $65 million finish is the best-case scenario and Apatow has officially lost his "cancer subplot" and "two-hour-plus running time" privileges. And you can kiss those Best Original Screenplay chances goodbye.
"G-Force" fell 46% to third place and $17.1 million. The guinea pigs already have $66.5 million in the bank so go ahead and mark your calendars for "G-Force 2" in July 2011. And just to reiterate, no matter how bad or good you think "Funny People" is, it's a filmmaker with a distinct voice trying something a little different and people soundly rejected it in favor of films like this.
"The Ugly Truth" dipped a more severe 53% to $13 million. It'll likely top out at $70 million or so and will be the third straight hit for director Robert Luketic, who balances his lack of any artistic talent at all with an uncanny ability to deliver a profitable piece of forgettable trash. That streak will likely continue with next summer's Ashton Kutcher/Katherine Heigl action-comedy "Killers."
Fox's sci-fi/family schlock "Aliens in the Attic" could only drum up $7.8 million and will soon join other Fox titles like "Baby's Day Out" and "Dunston Checks In" on the DVD rack in a supermarket right next to the gumball machine.
In horror news, "Orphan" dropped a decent 44% for another $7.3 million, but Freestyle's "The Collector" couldn't even crack the top 10 as it missed the torture-porn boat by about three years. If you thought about maybe seeing this movie, do yourself a favor and rent the William Wyler classic of the same name instead. Terence Stamp was never better, or creepier.
"(500) Days of Summer" is still earning some serious bank as it slowly expands but "The Hurt Locker' has seemingly already peaked. Despite doubling its theater count, it could only manage a 29% uptick in gross and came in at number 14. With not much gas left in the tank, Summit will have to decide whether to get it out on DVD before awards season or hold out for an end-of-the-year re-release.
Speaking of "The Hurt Locker," Kathryn Bigelow's war epic earned my proverbial $10 this week (I saw it for free). I thought it had a lot of excellent stuff but wasn't quite the masterpiece many seem ready to label it. Anthony Mackie was far and away the best part for me.
Next week sees the long-awaited release of "G.I. Joe: The Rise of Cobra" to theaters. Looking like the absolute worst piece of garbage since whatever the last movie Stephen Sommers made was, it will nevertheless top the box office and earn a lot of money. I want to say $40 million but others are going as high as $50 million.
Meryl Streep flexes her box office muscles with "Julie & Julia," a film that will connect with older audiences in a way that "Funny People" couldn't. I think a $23 million start and $100 million-plus finish is where this bad boy is going.
Finally, Universal release "A Perfect Getaway," which you probably haven't even heard of.  $5 or $6 million and another reason why Steve Zahn is box office poison.
Here are the weekend's top domestic box office grossers, courtesy of Exhibitor Relations: