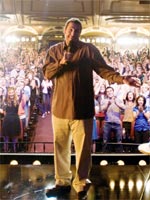 • In the week's most dramatic news, Universal rather cleared its awards slate by bumping both "The Wolf Man" and Paul Greengrass's "Green Zone" to 2010.
• Against expectations, we were won over by Meryl Streep's latest bid for that elusive third Oscar, "Julie & Julia."
• The Venice Film Festival unveiled a typically well-planned lineup, with "The Road" and Michael Moore's "Capitalism: A Love Story" leading the American charge.
• Meanwhile, the latter is one of a couple of Venice titles due to resurface in Toronto shortly afterwards.
• Still in a festival vein, the London Film Festival announced two world premieres — "Fantastic Mr. Fox" (whose trailer also bowed this week) and "Nowhere Boy" as its opening and closing films.
• As we wrapped up our coverage of Comic-Con, a panel discussion with Peter Jackson and James Cameron was the clear highlight.
• As "Funny People" lands and is widely deemed a near-miss, greater enthusiasm is to be found for Adam Sandler's lead turn in the film.
• Speaking of Judd Apatow's film, we wondered what's with the inordinate length of so many Hollywood movies these days.
• This week's box-office report monitored the depressing haul of "G-Force" and the continued progress of "Harry Potter."
• And finally, this week's edition of Tech Support surveyed the costume designers in the hunt for Oscar gold this year.