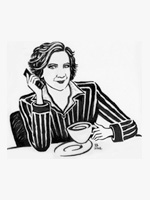 A couple of weeks ago the news dropped that Anne Thompson would be pulling up the stakes on her Thompson on Hollywood Variety blog and shifting it over to indieWIRE.
My immediate reaction was that the fit was better.  Thompson always seemed like an outsider at Variety, an awkward figment of a newer, fresher approach to journalism than that outlet has been willing to fully embrace.
I've known Anne a couple of years now and have come to consider her a good friend in a business more full of "business associates" than actual confidants.  I wished her the best when the news fell and again today, as Eugene Hernandez announces the "new" Thompson on Hollywood and Anne herself writes up her final post under the Variety masthead, I'd like to do so again.
It's an exciting get for indieWIRE, a good bunch of guys who understand the business the way Anne does.
Here's Hernandez:
With the re-imagined site, Anne is declaring her editorial independence. It will launch this Monday, August 3rd at: ThompsonOnHollywood.com. The move marks the latest step forward for indieWIRE as we continue to build our business to better serve filmmakers, the industry and moviegoers.

As far as I'm concerned, Anne is the leading voice from Hollywood and she has such a strong sense of how journalism about movies and the industry is evolving. She is an informed veteran with a topnotch editorial track record and a powerful Rolodex. Her new site will maintain many of the elements familiar to her regular readers but she will also expand her coverage to include new content areas and a broader focus on entertainment and cultural trends.

I expect her new web home within the indieWIRE network to be a go to spot for news, insight and perspective on the industry, festivals, awards season, and the latest movies. In the wake of the dramatic shift at the Hollywood trade papers this past year, there are a number of online outlets that have emerged to track the ups-and-downs of the industry. Anne's experience and background, not to mention her passionate love of the movies, will ensure that she remains a force to be reckoned with and I expect her to draw a rabid daily readership to her blog and indieWIRE generally.
And here's Anne, with further focus on "independence" and "freedom," you'll note:
I'm going independent in more ways than one. Sunday night I'm launching a new Thompson on Hollywood, housed at IndieWIRE, the web-savvy, thriving online indie trade founded by Eugene Hernandez 13 years ago. The site has continued to grow since it was acquired by Ted Leonsis and Rick Allen's innovative documentary site SnagFilms last year.

We will be a good fit. I'm based in L.A, IndieWIRE is in New York. I range over an eclectic mix of reporting and commentary about Hollywood, film fests, business, tech and media. They cover the independents like a blanket. We both believe in writing accurate and fair daily journalism. They're nimble with their news alerts, quick, smart and sharp about the ways of the Internet. I look forward to learning from them as I pursue the indie, improved entrepreneurial Thompson on Hollywood.

I can't wait to exercise my editorial freedom.
So good luck, Anne.  I think, as I've told you privately over and over as of late, you will be happier than ever in this new phase of your career.
Chin Chin.