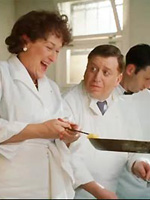 Earlier in the week I offered up my (surprisingly) positive assessment of Nora Ephron's "Julie & Julia," a shrewdly adapted narrative that features two of my favorite performances of the year from Meryl Streep (as famed chef Julia Child) and Stanley Tucci (as her loving husband, Paul).
Today in the pages of USA Today, Susan Wloszczyna has caught up with Ephron, Streep and co-star Amy Adams for a frothy little interview from New York.  She even sets the quaint mood early on with a lead describing "a picture-perfect summer's day at the Blue Hill restaurant at Stone Barns, a bucolic foodie mecca about an hour's drive from Manhattan in Westchester County."  She then proceeds to structure the piece like a recipe (but of course), including the proper asides from the conversation here and there.
Here's a taste (no pun intended):
Step 1.  Recruit a master chef

Hard to imagine anyone else but Ephron, who knows her way around both a kitchen and an editing booth, would possess the finesse to properly serve Julie & Julia on the big screen. Who else would attempt to transform the struggle to create the perfect aspic or poached egg into something as gripping as a rescue at sea in an action thriller.

"I promise you, someone else might have done it," the filmmaker says. "But the whole time I was doing it, I was thinking, 'Thank God I get to make this movie.' "

"You have such an understanding of these worlds," Adams says.

Could a man have managed as well with the subject?

"Oh, you never know," Ephron says.

"He wouldn't have been interested to the same degree," Streep suggests. "I've always said this is a movie where not a whole lot happens. Yet, that's what life is."
Adorable.  I have to say, it's really difficult to dislike this film.  Maybe that fact alone will put off certain viewers, but I fell for it pretty quick.