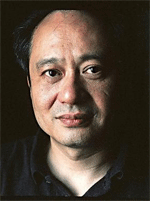 The competition lineup for the 66th Venice Film Festival is due later today, but ahead of that major announcement, other bits and bobs relating to to yesterday's fest have been trickling through recently.
Yesterday organisers announced the complete (and pleasantly eccentric) jury lineup. It's been known for some time that it will be headed by Ang Lee — who has a good rapport with Venice, after all, having won the Golden Lion twice in the last four years.
Now we know that he'll be joined by U.S. director Joe Dante ("Gremlins"), French actress Sandrine Bonnaire (herself a previous Venice prize winner for "La Ceremonie") and firebrand Italian auteur Liliana Cavani ("The Night Porter"). Rounding out the group are two less internationally familiar names: Indian multi-hyphenate Anurag Kashyap and Italian musician-filmmaker Luciano Ligabue.
Meanwhile, ScreenDaily carries details  of nine films set to have their world pemieres at the festival's Venice Days sidebar, the most high-profile of which is German-American director Sherry Horman's "Desert Flower." The film is adapted from the bestselling autobiography of Waris Dirie, a Somalian nomad turned supermodel turned human rights ambassador. Hers is a pretty extraordinary story, with a plum opportunity for relative newcomer Liya Kebede and a substantial supporting role for Sally Hawkins.
We also now know which films will be bookending the proceedings. It's old news that the fest will kick off with "Baaria," the latest from home favorite Giuseppe Tornatore ("Cinema Paradiso"), but it was revealed yesterday that the closing film is rather more surprising selection. "Chengdu, I Love You" claims to be the first sci-fi film from the People's Republic of China, and apparently has both romantic and comic elements in the pot.
Finally, Venice is taking rather a bold step towards embracing the current 3D fad by introducing a new prize for the best 3D film of the year. Apparently, the winner needn't be part of the festival lineup, which makes me wonder if the award could prove a handy tie-in to the special career Golden Lion being awarded John Lasseter and the directors of Pixar. In any case, the award will be determined by a special three-person jury comprising critics Dave Kehr and Scott Foundas, and Italian experimental 3D filmmaker Nadia Ranocchi.
OK, that's the housekeeping out of the way. Now bring on the lineup, and make it a good one.