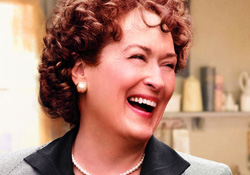 It's probably a little cliche to lead a review of Nora Ephron's "Julie & Julia" with a phrase like "I'm not wired for movies like this."  It ends up being a back-handed compliment to the film and doesn't exactly illuminate why it's a successful piece of work, but that is, nevertheless, the first thought that popped in when, to my surprised delight, I found myself falling in love with it.
Cleverly adapted from two novels by Ephron (Julie Powell's "Julie & Julia" and Julia Child and Alex Prud'homme's "My Life in France"), the film moves along at an airy but focused pace for an hour and a half or so before losing that momentum going into the third act, but along the way, it provides the expected showcase for a controlled Meryl Streep performance that couldn't have been more "on."
In some ways, it's becoming almost unsettling, the acute level of precision with which Streep can flesh out a character.  Almost as if something's off, like the paranoid feeling that seeps in when things are too "good."  As chef Julia Child, Streep manhandles the role and makes it her own, exuding passion, dedication and a well-rounded personality that we've only truly known as a performance of sorts on TV throughout the years.
The film parallels the story of Child's culinary awakening in Paris (accompanied by her loving husband, Paul Child, played by Stanley Tucci) with that of Julie Powell, living a modest but unfulfilled life in Queens and stumbling onto a raison d'être in Child's cookbook.  Powell, annoyed at her knack for never finishing what she sets out to do, commits to cooking every recipe in Child's book over the course of one year.
Meanwhile, four decades earlier on the streets of Paris, Child discovers a passion for food and cooking that will come to represent her own sense of accomplishment as she enrolls in a stuffy culinary academy.  Her husband Paul, a State Department employee assigned to the Paris embassy, is one of those too-good-to-be-true spouses that is nevertheless dimensionalized quite well by the always delightful Stanley Tucci.  Truly, other than Streep's infectious performance, Tucci's is the most heart-warming work in the film.
This powerhouse acting display — and obviously more captivating story — makes it difficult for Amy Adams to muscle in as Julie Powell, cooking up a storm and almost ruining her marriage to her unsettlingly understanding beau, but she brings the mousy devotee to life quite well.
An indulgent running time could have been trimmed by at least 10 minutes or so to allow for a brisker pace, but on the whole, "Julie & Julia" is a delightful ride, one packed with laughs and satisfying emotional beats, not to mention a lead performance that sticks the landing.  Enjoy with a nice bucket of popcorn (buttered and/or salted to taste), a box of Red Vines and fountain drink of your choice.