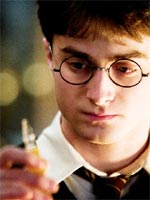 ScreenDaily editor Mike Goodridge raises a topic that has provoked more than a few grumbles this season: the inordinate length of some of Hollywood's biggest summer releases.
I'm not someone who automatically whines whenever a film pushes the 150-minute mark. Some films warrant that heft, and it's not always directly related to the scale of the plot — more ambient pieces can need time and space to breathe and explore their environments. Many felt that "Public Enemies" hadn't enough narrative to fill 140 minutes, which I can understand — though for me, the languidness felt right for a film that was principally an exercise in mood and texture.
I don't entirely subscribe to Roger Ebert's overly reductive stance that "no good film is too long, and no bad film is short enough" — there is plenty of "good" work that could enter "great" territory via some judicious pruning, after all — but the bottom line is that if I'm engaged by a film, I'm not checking my watch. (In any case, as a screenwriter, overlength is a factor I'm sympathetic to: I know the pain of cutting beloved scenes.)
But I do share Goodridge's exasperation over certain bloated blockbusters that don't necessarily merit the indulgence, beginning with the latest Harry Potter chapter:
Am I alone in getting a little bored at the episodic nature of Harry's battle to bring down Voldemort, this time peppered with long stretches of teenage romance? The Potter films are sumptuous and beautifully produced but so slavishly faithful to their source that their talented directors have been unable to exercise the cinematic license that the film medium requires.

As for Transformers 2, I confess to a nap during that one, though the loss of 20 minutes in the middle didn't seem to affect my understanding of the plot. Like the final Pirates movie, At World's End, the aim seems not to tell a tight and gripping story but to showcase as much CGI work as possible.
The length of the Potter films (which average exactly 150 minutes) has been one of my reservations about the series from the start, but I at least understand that the plotty novels lend themselves for such woolliness. But how on earth can one justify the same running time for "Transformers: Revenge of the Fallen," which is both light on story and samey in atmospherics?
Goodridge goes on to criticize Judd Apatow's "Funny People," the 146-minute running time of which has been a bone of contention in a number of the early reviews. He's all the more annoyed in this instance because he rather likes the film, deeming it potentially the director's best work, but ultimately "undisciplined and indulgent."
Unlike the blockbusters, however, the length of Apatow's opus points to a different industry malaise: the curious perception that "long" equals "serious," as if gravitas can somehow be added by the minute. It's certainly a formula the Academy is fond of: this year's Best Picture nominees averaged 132 minutes in length, four minutes less than the average length of winners across the past decade.
The cynical might argue the length of Apatow's film amounts to a "take me seriously" bid for Academy attention. (I wouldn't necessarily agree: the more lowbrow "Knocked Up" was still decidedly overlong, by my count.) But even if that were the case, what the hell is Michael Bay's excuse?