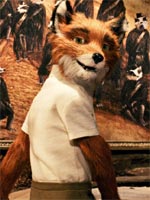 As the London Film Festival grows in scale and stature by the year, its opening film becomes an ever bigger deal. Last year, they scored a massive coup by kicking off with the world premiere of "Frost/Nixon," and I'm pleased to report that they've maintained that standard by landing Wes Anderson's "Fantastic Mr. Fox" to open this year's fest.
The eagerly awaited animated pic will have its world premiere on 14 October, just over a week ahead of its UK release (and a full month before its Stateside bow). Its selection continues a happy friendship between Anderson and the LFF — just two years ago, "The Darjeeling Limited" closed the festival. (Here's hoping this is a slightly more well-received selection.)
In the press release, Anderson explains why this is the appropriate place to unveil what is, after all, a decidedly British production:
Fantastic Mr. Fox is a British film – based on a Roald Dahl book, set in the UK, produced in the UK – and so I am especially pleased to have been invited to be the opening night movie of this year's London Film Festival. We had a wonderful experience at the LFF with my previous film, and I am eagerly looking forward to introducing Fantastic Mr. Fox to the world in this wonderful venue.
Personally, I think it's a smashing choice. As prestigious (and home-grown) an opener as "Frost/Nixon" was for the fest last year, it seemed a slightly dry, safe way to christen a very global, lively festival; while I have no idea whether Anderson's film will live up to expectations, it at least seems more in line with the LFF's cheerfully scatty atmosphere.
It also cannily chimes in with the narrative of 2009 being a big year for crossover animation, only months after Cannes selected "Up" as their own opening film. Sandra Hebron has put barely a foot wrong in her directorship of the festival to date, and this looks like another savvy move on her part. Well played.
Of course, yours truly will once more be on the scene for all the festival goings-on come October. Can't wait.