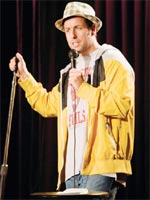 I can't say I saw this coming. Since the expansion of the Best Picture category, several people have considered Judd Apatow's "Funny People" as a possible populist nominee in the race, while speculating that it could also land him a writing nod after near-misses (and Guild citations) for his previous two features.
Meanwhile, others (Kris included) have sniffed awards potential for well-liked supporting thesp (and, of course, Mrs. Apatow) Leslie Mann. But whether due to his own dodgy résumé or the Academy's anti-comedy bias in the lead races, no one has mentioned the film's star, Adam Sandler, as much of an awards threat.
The reviews, however, tell a slightly different story. Although response to the film itself is mixed, the word for Sandler is very strong indeed, recalling the "OMG he can act" notices he garnered for "Punch-Drunk Love" seven years ago (which of course landed him a Golden Globe nod, if no Oscar traction).
Screen International's Mike Goodridge is guarded on the film, citing a "gargantuan" 146-minute running time and an "unwieldy mishmash of ideas and comic styles" as problems, but goes ahead and tempts awards fate for Sandler:
(The film) just about compensates for its many indulgences with typically warm humour and a knockout lead performance from Adam Sandler which shows a deepening maturity in the actor that could land him awards attention.

Sandler … steers the drama through its various convolutions – away from the saccharine and into a multi-layered portrait of a man who knows how to make people laugh but who has lost the ability to connect with them.
Variety's Todd McCarthy is similarly divided on the film ("amusing and engaging yet lacking in snap and cohesion"), and enthusiastically echoes the praise for Sandler, while putting a damper on Mann's hopes:
Adam Sandler's central performance as some version of himself is notable for its revelation of callowness and ambivalent self-regard, which will fascinate some fans and turn off others … But the many insights into everything from the man's arrogance to his self-derision make you feel you're getting something real here, and Sandler's gruff, offhand manner combines with his comic alertness to very good effect.

(Mann's Laura) is just not an interesting or even very tolerable character, her behavior stemming entirely from confusion, panic and emotional impulse. Mann hits all the surface notes, but never reveals anything beneath the manic surface.
Kirk Honeycutt's Hollywood Reporter review reads very similarly to the others — describing it as a "transitional" film for the director, he praises the characters for being "better realized and more lifelike than (in) any previous "Apatow film" but cites serious third-act trouble — but doesn't offer much on the performances.
These early reviews are a bit of a dent to the awards-level expectations that some had of the film, which could struggle to match the phenomenal box-office of Apatow's previous work. Sandler, however, could be a name to add to the contenders list, albeit on its lower reaches.