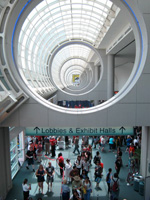 I wish I could tell you how awesome the "Iron Man 2" footage form yesterday's Paramount panel was, but Hall H was packed to the gills and even us schmoes int he VIP line couldn't get in because it was at capacity.  Without a doubt, the event was the most popular attraction at this year's Comic-Con.
It sounded good muffled through the walls.  That's all I got.  Hoping for another screening in LA soon.
By far the highlight for me was the Entertainment Weekly Visionaries panel with James Cameron and Peter Jackson.  It's a pretty big leap from last year's set of Zack Snyder, Frank Miller, Kevin Smith and Judd Apatow.  Let's hope next year isn't a step backwards at the crew responsible for this momentous occasion gets creative and puts a few equally brilliant minds together on that stage once again.
Speaking of Jackson, "District 9" made a major splash here.  The screening was very well-received on Thursday and the Saturday panel got the crowd chomping at the bit.  In this community anyway, the film is sure to be a runaway hit.
I missed the movie panel that seems to have been one of the more exhilarating ones: Warner Bros.  I heard nothing but praise regarding the "Where the Wild Things Are" footage, however, and plenty of pleasantly surprised attendees were talking up the "Jonah Hex" stuff, but staying on the movie footage side of things, I remain blown away by the "Avatar" stuff.  There will be those across the net who found that they became a victim of over-inflated expectations on this and so, the tendency from that side has been to go negative.  You know what I think, though.  See for yourself on August 21.
The Disney viral for "Tron: Legacy" and the "Alice in Wonderland" set-up gets high marks for tangible buzz-building, to be sure.  I didn't make it to Flynn's Arcade in time last night, but the "Alice" stuff was gorgeous and has me excited for the film's designs (even if, speaking as a Burton devotee, the film looks to be too far gone).
Shane Acker was charming Friday when he was on hand to showcase footage from "9," which sounded great on the cranked-to-11 sound system in Hall H.  It's a refreshing dose of creative adult-oriented animation, something the crowd certainly "got."
Kevin Smith's moment in the spotlight yesterday was, of course, vintage Smith and if you can find video of his take on the "Twilight" series, give it a look.  Hilarious stuff.
I also did a lot of geeky peripheral comic book stuff, but I'm not sure the readerships is interested in a Geoff Johns "Blackest Night" Green Lantern panel, or a similar Bat-book authors discussion, or the "Supernatural" screening and Q&A I'll get to today, so I'll spare you.
All in all, it was a good Con, perhaps a little overcrowded as always (both with attendees and schedule-wise), but I think more than a few films started the discussion they needed to.  "Avatar" will extend that discussion in a few weeks and by that time, we'll be dangerously close to the Oscar season.  The year is flying by.
A few parting shots: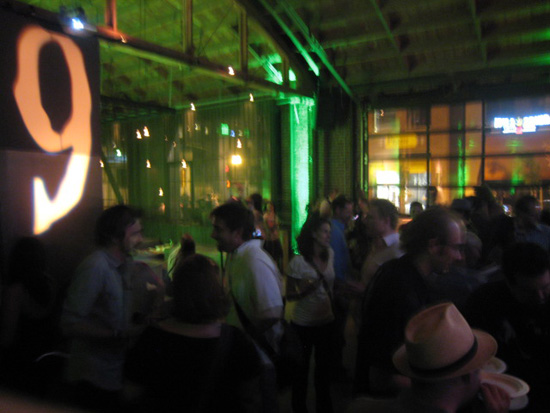 At the Focus Features party at Basic Friday night.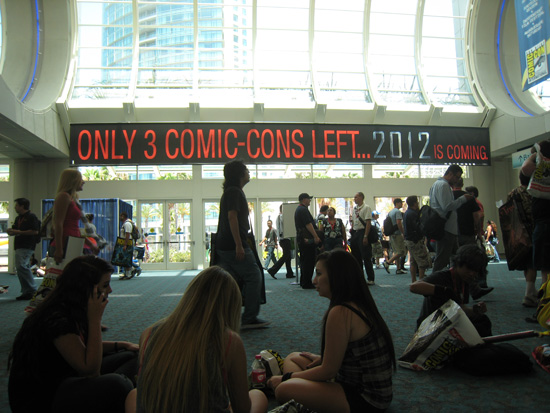 One of my favorite shots, just because the banner made me smile.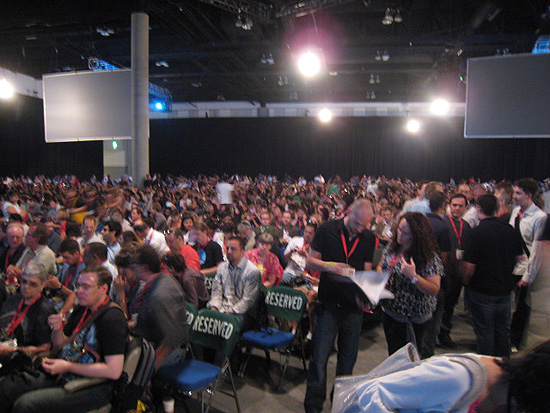 The crowd in Hall H.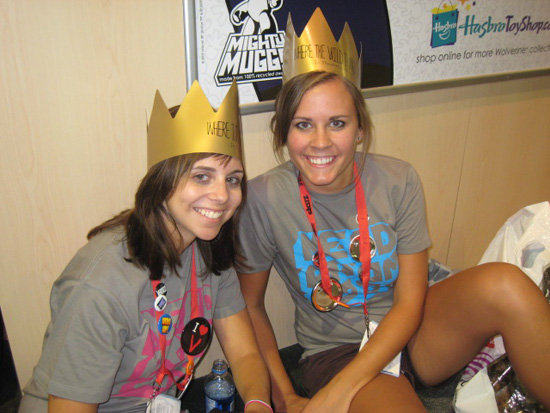 A couple of "Where the Wild Things Are" fans on the showroom floor.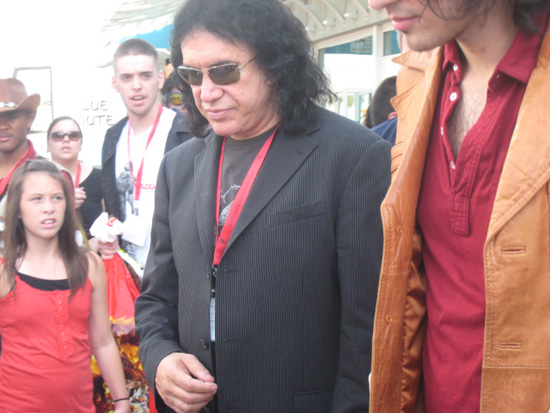 Gene Simmons, ladies and gentlemen.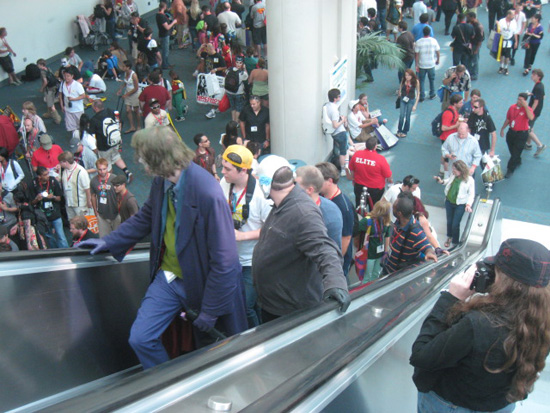 The Joker and a henchman scope out the Convention Center lobby.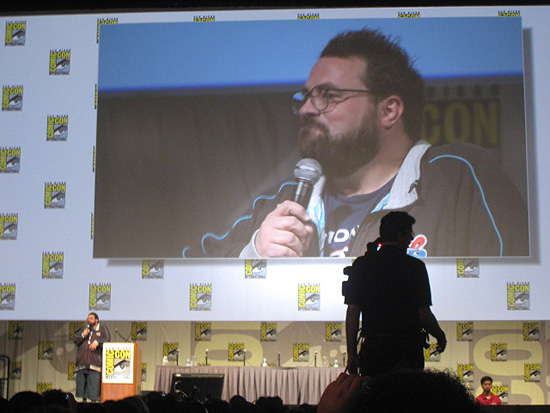 Kevin Smith addresses the masses.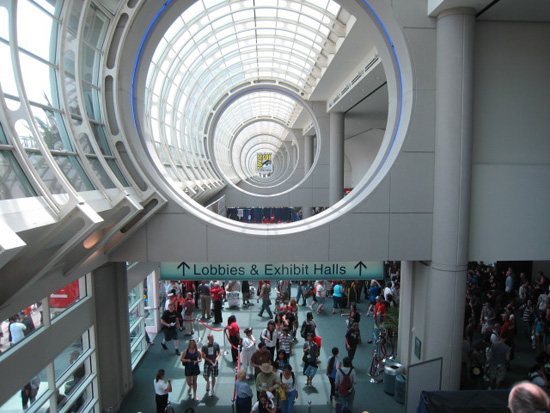 Saying goodbye with the requisite dazzling angle from the escalators.