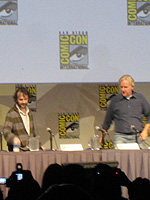 The crowning jewel of the 2009 San Diego Comic-Con, by far, has been the Entertainment Weekly-sponsored "Visionaries" panel yesterday evening, featuring filmmakers Peter Jackson and James Cameron.  So many real-world, in-the-trenches, eye-on-the-future topics were discussed that it became tedious to sit and transcribe the proceedings, so after a while I just committed myself to as many video clips as I could grab.  Though I was tweeting as much as possible.  Ditto Jeff Wells, who passed along some nice quotes throughout.
The two talked about everything from motion-capture technology to balancing the duties of screenwriter with that of producer and director, and really, anything in between.  It was the most enlightening panel Comic-Con could have hoped for, and even the attendee questions were brighter than usual.
Line of the evening: "It's not a good idea to ask a woman if she wants to have another baby when she's crowning," which was Cameron's response to a query about his next project.
Much of the discussion was dedicated to the idea that these two guys constantly push the envelope, not only of what is possible in cinema, but of what a studio is willing to fund.  Cameron in particular displayed his usual maverick side when questions like this came about, at one point saying that Warner Bros. needed to "grow a pair of balls" regarding an eventual 3D release of the "Lord of the Rings" franchise.
Here is what the two had to say about "pushback" from conservatively-minded studios and personal artistic doubt:
I'll get a few more videos from the discussion up later today or tomorrow.