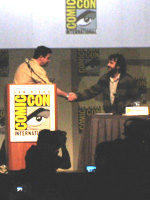 Peter Jackson made his long-awaited first trip to Comic-Con yesterday in support of Neill Blomkamp's "District 9," which screened to a select audience Thursday. He received the expected standing ovation by the many Ringers and Bad-Tasters in attendance.
"This is a moment to remember for the rest of my life," he said after snapping a few photos of the audience like a geek in heaven.
Jackson was joined by Blomkamp and actor Sharlto Copley on stage for a discussion of the thoughtful sci-fi film. An extended trailer (that, to my mind, gave away too much of the plot's particulars) cranked the crowd's anticipation for the film up to 11, but I personally wish the moderator had drawn out some more insightful commentary from Copley, whom I praised to the ends of the earth after seeing his riveting performance Thursday.
Jackson talked about the project's genesis, being born from the ashes of his failed "Halo" project. The seeds of "District 9" can be found in Blomkamp's short film "Alive in Joburg," which crossed Jackson's path when he was seeking out a helmer for "Halo."
"The idea was that we would produce 'Halo,' but from the very beginning we wanted to find a new director, someone who was fresh, original, who would bring a new spin to the film," Jackson said. "Neill had done a couple of short movies and we were really impressed. And then 'Halo' died due to studio politics. We got kind of disillusioned with what happened and we thought, 'Why don't we try to take control of the situation,' so we suggested the idea of working on an original idea. Keep the budget low and put this energy into a different project. So it worked out for the best."
Blomkamp's take on the genre is refreshing to say the least. He employs documentary-like techniques in the film to ground the subject matter into a reality that goes a long way toward securing a tangible quality, bringing out the human component which, let's face it, is the hallmark of the greatest sci-fi.
"I really like the idea of science fiction that feels real," he said. "I wanted to see it in a way that felt as realistic and grounded as possible, so I thought using some sort of real-life footage, whether it's news footage or hand-held, what we associate as the media world, would help ground it. Even the short film has that in it.
"Ultimately it is kind of a Hollywood thrill ride more than a sort of political statement. It's image-based originally, I think, but since South Africa has such a racially charged background, that was the natural place for it to be set."
Copley, meanwhile, seemed to be taking it all in stride, though perhaps he isn't fully aware of the attention that lies around the corner for him.
"From the age of 10 I was just making films with whatever you could find and often putting myself and my friends in them," he said. "So I've done a lot of characterization, if you will. I convinced one of my best friends that I was in the witness protection program! The concept resonated with me and I think when it came to actually shooting it, it was a normal situation. I never felt nervous or pressured. The Peter Jackson part was the weird thing! It was inspiring and it was humbling at the same time."
Jackson, by the way, did a nice job of diverting any unanswerable "Hobbit" queries at the top by announcing that he was maybe three weeks away from turning a script in to the studio and that he has not been in a position to make casting offers because the film has not received a green light yet.
He did, however, provide some insight (which is probably old news in the Rings circles) regarding the decision to make two films. Given that J.R.R. Tolkien penned "The Hobbit" decades before the "Lord of the Rings" series, a lot of the hobbit lore you find in the trilogy wasn't injected into the first novel, so Jackson saw it as an opportunity to expand "The Hobbit" into it's own mammoth undertaking by shrewdly adapting aspects from all the novels into the two films.
"One of the things we were really excited about is we could take that expanded information and put it in 'The Hobbit,' so to do all of that, we felt we really needed two epic films," he said.
"District 9" lands in theaters August 14. Here is Blomkamp's short film, "Alive in Joburg":