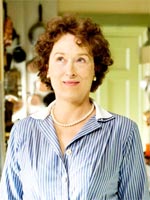 Even before anyone had laid eyes on Nora Ephron's "Julie & Julia," I felt fairly confident in predicting the critical response: nice, unremarkable film dominated by a broadly entertaining, larger-than-life turn from Meryl Streep.
And so it has come to pass. The trade papers are united in their lukewarm feelings on the film itself, while Streep comes in for the expected praise for a showy star turn a showy star role. (Meanwhile, poor Amy Adams gets predictably, if charitably, sidelined, despite her joint billing.)
Variety's Justin Chang is harshest on the film, calling it "overstuffed and predigested … a slick, presumptuous vanity project," but has nothing but kind words for Streep's "delightfully daffy" performance:
Doing her formidable best to counteract (the film's) drawbacks is Streep, whose 5-foot-6 frame makes her an imperfect physical match for the 6-foot-2 Julia, but who proves more than up to the challenge of tackling this beloved celebrity's equally outsized personality. Delivering an elegant approximation of the woman's distinctly flutelike vocal pitch and endearing mannerisms, Streep abundantly conveys the warmth, rich humor and joie de vivre so evident in Julia's TV appearances and her writing.
Kirk Honeycutt's Hollywood Reporter review is more gently critical of the film, declaring it enjoyable but lacking in nuance, and besotted with Streep:
Another Streep marvel … Streep delivers yet another uncanny impersonation, getting every shade of the famously hearty voice and extravagant, life-loving personality that was Julia.
However, Screen International's Fionnuala Halligan, while admiring of Streep's craft, raises concerns that it might not register with those unfamiliar with Julia Child herself:
Child was a Cordon Bleu chef with distinctive physical attributes and eccentric, if not downright campy, mannerisms, which Streep largely nails. But Ephron does not help the uninitiated – that is to say the younger viewer or international audiences who haven't seen Child's TV shows – by providing any footage or context upfront. Thus it takes a while for Streep's initially alarming performance – more reminiscent of her turn in Mamma Mia! than Doubt – to sink in.
(I guess if I had to choose between Streep's turn in "Mamma Mia!" or "Doubt," I'd pick the former, but it's not an appetizing comparison. Anyway.)
Anyway, regardless of the film's reception, these notices will likely spur on the Oscar talk for Streep, though her cause would be helped if the older female target audience embraces the film as they did "The Devil Wears Prada." Streep's campaign for the latter was a relatively easy one, but still benefitted from the film's better-than-expected critical notices and surprisingly broad awards reach. (It may have got only two Oscar nods, but Screenplay and Supporting Actress were near misses, while I suspect it was closer to a Best Picture nod than most people think.)
"Julie & Julia" might lack those advantages as an awards horse, and there's still the question mark of Nancy Meyers' "It's Complicated": a similarly comedic vehicle that, should Streep also get strong notices for it, will be far fresher in voters' minds given its December release.
Could a vote-split damage the actress's chances of a nomination? Or could the Academy's biopic hard-on keep "Julia" ahead all along? Or could she duck into supporting after all, as was initially speculated, and shoot for the double nod? Far too early to speculate, of course — and all these questions are easily answered if "Something Good" turns to be, well, not — but it's an interesting situation.