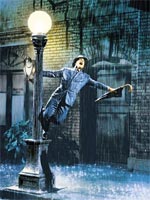 Bound to raise many a film buff's hackles, The Guardian carries an entertaining piece today by novelist Tim Lott on the subject of "the worst best films ever made" — in other words, the roundly lauded and canonized classics that routine appear on "all-time greatest" lists but, well, simply aren't all that.
It's a wholly subjective issue, of course, and Lott is unashamedly provocative (if overly glib) in tackling it, taking down some seriously big targets along the way. Films in the firing line include "The Searchers" (which he accuses of both racism and "rude mechanicals"), "Les Enfants du Paradis" ("dated, overlong and absurdly wordy"), "On the Waterfront" ("a masterclass in ham acting") and "Death in Venice" ("a colossal piece of soft-focus masturbation").
I disagree on most counts, but now and then his venom strikes a chord of with me. I wouldn't go as far as he does in calling "La Dolce Vita" a "turgid, lazy mess of half-realised conceits," but I agree that it's not a film that has aged particularly well; compared to the still-pristine "8½," its experiments in anti-narrative look idle and incomplete. And I'm glad someone else has the courage to say that subsequent decades of radical reinvention in the field of the movie musical make "Singin' in the Rain" look like a very ordinary achievement indeed. (I'll just come out and say it: I can't stand Gene Kelly.)
(But then Lott goes and slams "Three Colors: Red" — a personal top-tenner — and declares "Psycho" less effective than "The Blair Witch Project," and thus loses me all over again. That's the fun in such pieces.)
He takes on a few more modern standards as well, puzzling over how "The Shawshank Redemption" ("a perfectly OK B-movie") has taken on classic status via public rather than critical consensus.  (I tend to agree — I personally love the film, but missed the moment where it took on "all-time" status.) That, however, is mild compared to the spitting venom with which he attacks "Schindler's List":
This film is actively offensive. To watch a group of cringing Jews gather around the "good German" during the Holocaust is bad enough. To manipulate one's emotions, as when a group of incongruously good-looking refugees are tempted into the camp shower block only to receive – yes, showers! – is disgusting. And the final scene, straight out of a prime-time soap, when Schindler breaks down in tears and weeps "I didn't save enough", is enough to make the toughest stomach regurgitate its contents.
(In a handy coincidence, today also finds The Film Experience's Nathaniel Rogers and friends insightfully, and rather more charitably, taking on "Schindler's List" — including a discussion of that very shower scene — in the latest installment of their must-read "Best Pictures fom the Outside In" series. Check it out.)
What titles would I add to Lott's list? That's tricky. I rarely get as actively resentful as he does over universally acclaimed titles; I am usually able to understand and appreciate what others revere about such titles, even if I stand at a comfortable distance from them myself.
Thus, there's a lot thats falls into the category of "films I admire, but don't like." I can, for example, absolutely see the livewire combination of inventiveness and ambition that lands "Citizen Kane" in the top spot over and over again, but nothing about the film moves me on a personal level. I find Robert Bresson's work formally beautiful, but oddly calculated and unstimulating, and "Ninotchka" aside, I put far too much effort into laughing at Ernst Lubitsch comedies.
Moving to more recent territory, I sometimes feel like the only person in the world who found "Fargo" a smug, heavy-handed exercise in underlined irony, while the explosion of critical (and Academy) adoration for Roman Polanski's dramatically stilted, stylistically embalmed "The Pianist" befuddles me still. But I'll save my exasperation for later in the year, when "The Lord of the Rings" series inevitably top multiple decade-best lists.
What are your worst "best" films? What classics are you chastised for not loving, or even getting? Vent away in the comments.