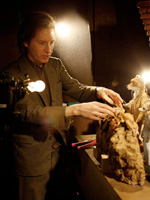 Over at USA Today, Susan Wloszczyna has an exclusive first look at nine new images from Wes Anderson's "The Fantastic Mr. Fox," plus some insight into the film's screenplay:
The much-expanded plot has been tweaked to include many elements found in Anderson's other films, including a dysfunctional clan and a male rivalry. The four Fox children in the book have been whittled down to one handful: Ash (Jason Schwartzman, channeling his Max character from Rushmore), a petulant social misfit who wears a superhero cape and resents his cousin Kristofferson (Eric Chase Anderson, Wes' brother) for being good at everything.

Schwartzman, a veteran of three Anderson features, proclaims Mr. Fox as "the ultimate." "It's funny, but also visually beautiful. Instead of adapting his style of directing to animation, he brought animation to him. He made a Wes film."
That last bit isn't exactly a selling point for a guy like me.