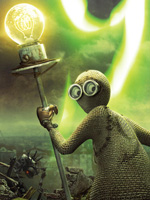 Focus Features rolled out an extended clip of Shane Acker's "9" a few moments ago to adulating fans who seemed more eager to ask producer Tim Burton a slew of peripheral questions and offer the usual "you're an inspiration" sentiments to the macabre-obsessed director.  So it goes at Comic-Con.
But on the issue at hand, Burton offered that he connected to Acker's original short film (which was nominated for an Academy Award in 2005) immediately.
"You see a lot of personal films, but you don't see a lot of personal films that are animated," he said in the post-screening panel discussion.  "I've been through it before, endless conversations with studios, 'Why can't Jack Skellington have eyes?'  I thought I could at least help fight those battles so he could concentrate on the film.  You've got enough to worry about making the film to have those kind of stupid conversations."
Acker, who chimed in there to mention how supportive Focus, which he calls a "director-driven" studio, has been on the project, said he didn't originally conceive the story as a feature film.  It was more of a director's reel piece meant to secure other work for him as a filmmaker.  But when Burton (and co-producer Timur Bekmambetov) took an interest and the project began to unfold as as a feature, he fell in love with the story all over again.
"In order to design that world [for the short], I had to think about how it came to be," Acker said.  "But it was just broad brush strokes.  We really had to investigate what those ideas were and kind of build them up and explore that world."
Other panelists included Bekmambetov and voice actors Elijah Wood and Jennifer Connelly and we were treated to our first microphone cut when a guy started to ask if he remembered him.  "I was drunk at the time," Burton said as the poor fool was hustled away from the mic.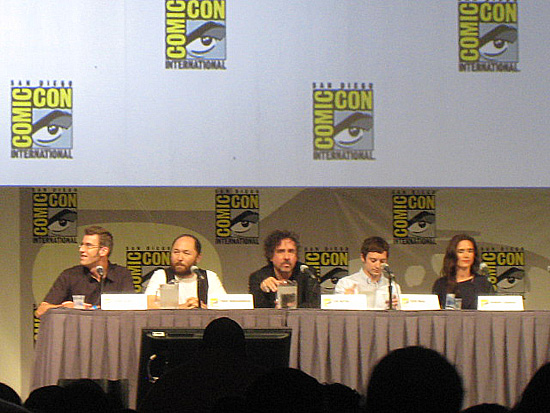 I saw "9" a few weeks back and was immediately taken by its visceral ingenuity.  The soundscape of the film is also quite impressive, Danny Elfman and Deborah Lurie's score components mixing bombastically but well with the dazzling sound effects.
The narrative is intriguing even if it doesn't always lock into place firmly, but regardless, there will certainly be nothing like this film when it releases, conveniently, on September 9 (9-9-09). The trailer was also shown twice today (on this wicked sound system, which beats the Sunset Screening Room any day). In case you haven't seen that yet:
Also worth mentioning, "9" is going to do pretty well in with merchandising, I'd say. There are a few of the figures on display out on the exhibition hall floor. I grabbed this shot yesterday: