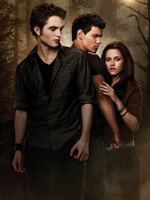 I skipped out on this morning's "New Moon" press conference, despite the inevitable traffic spike attending would have given us.  Those bird's-eye view photos of the masses, however, have been passed around over and over and over again just a few hours later.  Kinda crazy.
Anyway, Jeff Wells, attending his first Comic-Con (which is its own delightful sit-com waiting to happen), was on hand and took the video below, but his matter-of-fact dismantling of the film's stars and their attitude at the presser that is worth passing along:
This morning's New Moon/Comic-Con press conference began at 9:54 am — almost a half-hour late — inside a super-sized meeting hall within San Diego's Bayfront Hilton. The film's three stars — Kristen Stewart, Robert Pattinson and Taylor Lautner — posed for photos and took questions from a throng of about 75 or 80 journalists…Lautner is clearly the most ambitiously press-friendly among the three. While Stewart and Pattinson did their usual usual — i.e., giving answers that suggested they're a lot more complex and aloof and thoughtful than their participation in movies based on the Twilight series might suggest. It's the age-old "I'll do this but only if I can answer questions like Marlon Brando" routine. But Lautner, who has a bee-stung Beagle Boy nose , exhibited the personality of a publicist or a glad-hander. He clearly enjoys smiling and wants everyone to like him. He could be the next Regis Philbin if he wanted to go there.
Only Wells.  Here's the vid: