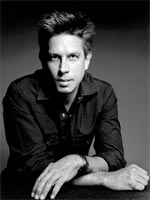 Lauded composer Elliot Goldenthal doesn't deign to work all that much in film these days — the lure of stage and opera work is great, particularly when he gets Pulitzer recognition for it — and when he does, it's not always in projects worthy of his gifts. (Anyone want to hazard a guess why he scored "S.W.A.T." in 2003?)
But this year finds him thoroughly immersed in the big screen again, renewing two partnerships that have proved productive in the past. We've already heard his work on "Public Enemies" — his first pairing with Michael Mann since "Heat" in 1995 — which was largely muted and effective, with a contemporary acoustic edge that landed on the right side of anachronistic. (I maintain, however, that the use of Diana Krall was a miscalculation.)
But more eyes (or ears, rather) might be on his next collaboration with personal and professional partner Julie Taymor, whose screen interpretation of Shakespeare's "The Tempest" is wavering between a 2009 or 2010 release. Anne Thompson profiles the composer and drops some intriguing hints about the latter project:
Goldenthal's now finalizing the score for Taymor's demi-musical "The Tempest," starring Helen Mirren as Prospera and Ben Whishaw as a singing Ariel. The movie uses Shakespeare's own songs. "It's a challenge to find something mysterious and not arcane, and not Elizabethan sounding," he says. "It has to sound like something you've never heard or can categorize. I have to compose around the Shakespeare meter."
Even when Taymor's film projects spin out of control (which, let's face it, is most of the time), Goldenthal's contributions to them remain exciting. Thompson writes of her high regard for his rearrangement of the Beatles songbook for "Across the Universe," and you probably remember that he won an Oscar for his work on "Frida," the richest and most disciplined element of an otherwise vapid film. (The late Elmer Bernstein and "Far From Heaven" were still robbed blind, but that's another discussion.) So the prospect of them experimenting with historical strictures promises much.
Meanwhile, earlier this month, Time featured an worthwhile interview with Goldenthal, mostly on the subject of "Public Enemies," but I liked this general take on the challenges of working in film as opposed to other media:
For movies, you have to think of time as set — everything else in music is variable time. In cinema, the composer has to sort of decide in the collaborative sense: Do you want time to seem like it's moving faster or slower? You can play one music to a scene and it seems to last forever, but play a different thing and it just whizzes by. A ballet dancer can take his time with a scene, going a little faster or a little slower, and a conductor can change night after night. There are liberties with tempo. But there's a rigidity to film that makes it like a dictatorship. You have to work, and find a way to adapt, under that restriction.
More here.