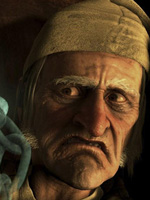 As I look out my 29th floor window I can see the Hall H line, peppered with air matresses and tents, is already at epicly ridiculous proportions, but most of those nutcases are "Twilight" obsessives hoping to a secure a spot for Summit's panel later today.  The big stuff, however, will revolve around the 3D presentations of Disney's "A Christmas Carol" and James Cameron's "Avatar."
Over at the LA Times, John Horn has previewed today's festivities, coming at it from the angle of 3D being perhaps a last ditch effort to cash in for a business that sees profits slipping yearly.  The buzz studios and filmmakers are aiming to drum up here in San Diego is crucial.  Horn talked to a number of artists involved with today's unveilings, among them, "Christmas Carol" director Robert Zemeckis.
Here's a taste:
Zemeckis is confident that his "Christmas Carol" footage — scheduled to be shown this morning in Comic-Con's first ever 3-D presentation in its 6,500-seat Hall H — will prove not only that the 3-D technology is well suited to his movie but also, and more critically, that his movie is well suited to Comic-Con's horror, superhero and fantasy fanatics.

"What we hope to accomplish is that anyone at Comic-Con realizes that it's not a movie for the traditional Disney audience. It's a classic ghost story," the director says of his Nov. 6 adaptation of the Charles Dickens fable. "I hope that this is a way to present to the audience at large that this is a movie for real movie fans, and real ghost story fans and fans of graphic novels."
Meanwhile, over at USA Today, Scott Bowles previews the "Avatar" panel, getting some quality time with director James Cameron:
He may be Hollywood's most gifted tailor of cinema and technology, but Cameron remains a pretty old-fashioned guy. Until today, the director has kept his film as secret as a birthday gift — one he plans to present with 20 minutes of footage at Comic-Con.

For a filmmaker who hasn't made a commercial feature since 1997's Titanic, Cameron doesn't sound too worried about selling his tale of war between mankind and an indigenous species on the exotic planet Pandora.

"I think for this type of film, presenting it to a concentrated mass of passionate fans, it's perfect," Cameron says. "I've spent four years of my life on this project. We've got the (goods)."

That is big news for the 7,000 fans who managed a ticket for Thursday's scheduled presentation. Cameron's return has generated the kind of fan reverence normally reserved for George Lucas.

"Iron Man 2 has everyone excited, but there's not a person at Comic-Con who isn't dying to know what James Cameron is bringing," says Blair Butler of the G4 cable network, which caters to gamers and fanboys and plans live coverage of the event.
There's also this aside, revealing a Christopher Nolan-like approach to "extra features" on home video that reveal too much of the process.  I have to admit, it made me chuckle:
"You're not going to find 'behind the scenes' extras on the DVD," Cameron says. "I think the movies aren't the big, wonderful mysteries they used to be. I don't want to see some guy in a black leotard and dots showing me how he made himself look like an animal."
Read the rest at USA Today.  I'll try to file as soon as I can after today's panel discussions.