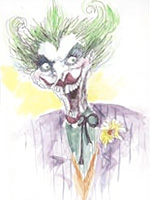 One of the more eagerly anticipated participants at this year's San Diego Comic-Con International is Tim Burton, making his first ever appearance.  Burton will be on hand Thursday to unveil footage from next spring's "Alice in Wonderland" and again Friday as producer of Shane Acker's "9."
Additionally, there are a ton of Batman events scheduled in the wake of the popular and critical success of "The Dark Knight," but also to celebrate the 20th anniversary of the theatrical release of Burton's original film.  The filmmaker isn't scheduled for those events in any capacity, but matched with the also in-attendance Henry Selick (director of Burton's "A Nightmare Before Christmas" but heading to San Diego for the DVD/Blu-ray release of "Coraline"), it all makes for the most Burton-esque Con yet.
With that in mind, "The Official Tim Burton Gallery" has finally been unveiled over at the director's official website.  There are a number of images in a pair of rooms you can virtually browse (with Burton character Stain Boy serving as a guide of sorts).  It's all in preparation for an upcoming hardcover, the details of which you can find, along with a few personal favorite images, after the jump.