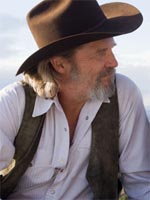 When I first began compiling my Oscar nomination predictions back in May, I took a wild-card Best Actor punt on Jeff Bridges in a little, then distributor-less indie called "Crazy Heart."
In truth, I had little basis for the guess other than the strong reputation of the 1987 source novel, and the fact that Bridges is surely one of the most sorely Oscar-overdue actors in the business. Like Ed Harris, he's one of those dependable American stalwarts, well-liked by all, who you think must win at some point, but rarely land roles showy enough for the winner's circle.
"Crazy Heart," however, gives Bridges the opportunity to play a washed-up, alcoholic country singer seeking to get his life and career back on track — now just count the Oscar hooks in that sentence. How can he lose?
So I was interested to see my idea given at least some credence by Fox Searchlight, who recently acquired global rights to the film for a seven-figure sum.
The film has an impressive cast, with Maggie Gyllenhaal, Colin Farrell and Robert Duvall (who can testify to the awards benefits of playing alcoholic country singers) all on board. But it seems Bridges is the one to watch, with Searchlight heads Nancy Utley and Steve Gilula describing his work as "the performance of a lifetime."
So far, so good — but I was puzzled to read that they have a spring release in mind for the film. If the film is complete and Bridges' work is that special, why not try a 2009 awards run? The questionmark that is "Amelia" aside, the studio haven't much to work with yet this season, while the Best Actor roster is still looking very porous. This looks like a done-deal win, right? Curious.