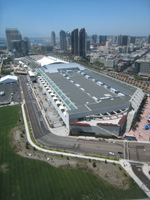 I'm just settling in here at the Bayside Hilton next to the San Diego Convention Center.  Killer view, badge pick-up within the hour.  It's all happening, etc.  But I find myself pondering the "Con" aspect of it all more and more these days.
Of course, I disagree with David Poland's notion that the festivities here don't manage to move the needle at all.  The mood is set, legions of journalists (every Tom, Dick and Harry with a Blogspot or a Live Journal gets in as "press" these days) spread the word and a culture is born right here, every year.  It's an unknowable variable, of course.  Things can go one way or the other, and nothing will necessarily be made or broken.  But the publicity opportunity is rather undeniable.
Which brings me back to a point I made just this afternoon, the idea of the web universe largely playing the role of extended mouthpiece for a studio system more and more desperate to reach audiences and drum up excitement in advance of their product's unveiling.  It's marketing 101.  But it's not journalism, any more than the cut-and-paste press releases you find in the trades every morning.
So why do we cover it?
I can't speak to the rest.  I can only speak for myself, and as a bona fide geek straddling the line between populism and art house entertainment at a website largely devoted to the perceived higher brow of the awards season, it's purely about the atmosphere.
The Hall H presentations are grand, but it's information you'll find anywhere.  The interview opportunities are nice, but they don't provide the opportunity to enlighten like a face-to-face in the wake of viewing a finished product might.  The schedule is uncomfortably packed and the amount of passes sold seems to be against fire code year in and year out, but it's difficult to stifle the enthusiasm.  In fact, the only jaded component seems to come from journalists used to more accommodating situations bemoaning the hordes.
There are complaints, probably justified, about the increasingly limited focus on the convention's namesake.  Hollywood being so close by, it seemed inevitable that the movie business would strong-arm the event to its liking, leaving the comic book culture as almost a novel aside.  That is certainly unfortunate.  Films like "Get Smart" have no business here, and "genre" becomes a term more and more elasticized as studios try to fit square pegs into round holes.
Meanwhile I find myself poring over an at times awkwardly diverse schedule just to find a nice conversation with Geoff Johns, for instance, concerning the current "Blackest Night" story line in the pages of DC Comics titles, or one happy surprise a few years back, a one-man panel with comic artist Joe Jusko.  Things like that appear, more and more, to be filler, when they are the kind of thing this event was built upon.
Lou Ferrigno, down on the floor, hustling $20 out of unassuming old ladies for an autograph or a photo, has indeed become a symbol of the Con: anything for a buck.
But nevertheless, here I am for the next four days.  Film stuff will be aplenty, of course, as outlined Monday.  "District 9" and "Inglourious Basterds" will be screening here.  And I'll be chasing my childhood from booth to booth when I can, desperately seeking out the comic stuff but bracing myself for a clashing mish-mash of pop entertainment and culture.  In that way, and with Mr. Ferrigno in mind, maybe the Con has actually become a symbol for the country itself.
I'll be here throughout the week bringing items to you as I digest them.  Fuller items will land here, of course, while I expect to be Tweeting plenty of observations along the way.  Be sure to follow my silliness over at Twitter and here, and to those attending, enjoy the festivities.