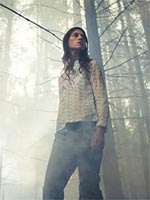 The imminent release of "Antichrist" on this side of the pond has prompted some amusing journalism, as outraged critics make flustered pleas for a return to tighter censorship. (Apparently, adults over the age of 18 can't be trusted to make their own viewing choices.)
Of course, they're obliviously playing into Lars Von Trier's hands by publicising the film so generously — thanks to them, even my less cine-literate friends have now expressed interest in seeing it.
Unsurprisingly, the most hilarious tirade against the film comes from that bastion of little-Englander conservatism, the Daily Mail, in which self-proclaimed "libertarian" Christopher Hart strikes down upon the film with great vengeance and furious anger, even calling for it to be banned, and only briefly pausing to admit he hasn't actually seen it:
You do not need to see Lars von Trier's Antichrist to know how revolting it is.I haven't seen it myself, nor shall I – and I speak as a broad-minded arts critic, strongly libertarian in tendency. But merely reading about Antichrist is stomach-turning, and enough to form a judgment.
He blusters onwards:
It doesn't shock or surprise me in the slightest that Europe now produces such pieces of sick, pretentious trash, fully confirming our jihadist enemies' view of us as a society in the last stages of corruption and decay.

If I were to see Antichrist, I don't believe for a moment that it would incite me into copycat violent behaviour or make me a danger to others. But it would poison my mind and imagination, with explicit, ferocious scenes of sexual violence that would stay with me for ever. Isn't that good enough reason to ban it, or at least demand extensive cuts?
Even by the Mail's usual standards of right-wing harpyism, Hart's piece is pretty unhinged stuff. Who advocates for art (whatever its merits) to be banned in this day and age anyway? Hart's concern that innocent-minded children will be corrupted by the film on DVD is no less wrong-headed — frankly, if my (hypothetical) kid expressed even the remotest interest in seeing a film as rigidly arthouse in sensibility as "Antichrist," I'd do small a dance of joy.
But as the laughs subside from reading the article, the despair over the journalistic ethics at play here sink in. How can any paper — even one as boneheaded as the Daily Mail — sanction a critique of a film by someone who hasn't seen it? Even on his own hysterical terms, wouldn't Hart's argument be more coherent if his points of attack were more specific? (It goes without saying that even his potted synopsis of the film is littered with factual errors.)
Between films like "Antichrist" (which, as I've said before, isn't quite as morally subversive as its marketers would like you to believe) and journalists like Hart, I think I know who is poisoning the public imagination more.