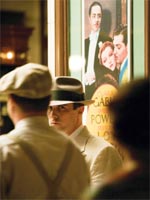 I must say, while I'm still struggling to see the use of The Auteurs as a social networking site, it's a smashing source of film writing. The range and intelligence of discourse there is a joy to read, and is rapidly making the site a daily essential.
A case in point is today's superb three-headed discussion of "Public Enemies" — well-timed given that today (as noted at the Film Experience) marks the 75th anniversary of John Dillinger's death.
I've said before that I don't think the film has generally received the critical credit it deserves, so it's a treat to read three equally well-informed writers debating its complexities, and its relationship to the Michael Mann canon, in more detail than any review I've read. Daniel Kasman is upfront in his enthusiasm, declaring it the year's best American film so far. (Short of "The Hurt Locker," I don't disagree.)
I also found myself thoroughly in agreement with Ignatiy Vishnvetsky's level-headed defence of Mann's use of HD:
There really is no verisimilitude in the film. Mann has never made the mental connection that so many critics apparently have that video equals documentary … Video makes the historical more vivid and also more mysterious, and not for pseudo-documentary reasons. It's simply because HD looks like nothing we know. It's like rediscovering the image. It doesn't look like our experience of the world, but neither does 35mm. It's just that 35mm has a tradition.
Kasman also very precisely nails Mann's distanced approach to character — a trait that has led many to dismiss the film as  coolly impersonal (an understandable problem that I admit I've had with previous Mann works, but oddly not on this occasion) — by referring to the film as an example of so-called "glance" cinema:
Public Enemies is, I think, even more opaque (than Miami Vice): we are given even less characters, even fewer events, even less melodrama, even less distinct locations, charisma, Grand Facts. And we are left with gestures … Watching these recent Mann films is us watching a screen. I think this is where some audiences and some very smart critics have problems with Mann's digital work, that they are trying to push in when they really should be viewing across. The smear of movement we see in this film when its digital camerawork is projected on film—which is how I saw it—really can be seen as a literalization, materialization of this concept.
It's wonderful film writing that doesn't demean the perspectives of those who disagree. A must-read, whatever your stance on the film.