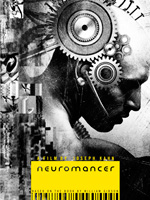 In the wake of "Watchmen," adapted from a notoriously dense piece of popular culture and a nut some think Zack Snyder and company finally cracked this year, Scott Thill at WIRED Magazine is asking what else is out there that's also "unfilmable."  I personally think the idea of something being "unfilmable" is bullshit.  Perhaps as far as faithful adaptation goes, maybe, but cinema is a medium with nearly limitless possibilities, so if you can't dive in and creatively bridge the gap, you have no business trying to do so in the first place.  That's my view, anyway.
The WIRED list includes a number of the usual suspects, two of them being graphic novels that I would hesitate to consider all that difficult when it comes to adapting this stuff (Frank Miller's "The Dark Knight Returns" and, perhaps to a lesser extent, Neil Gaiman's "The Sandman").  Orson Scott Card's "Ender's Game" tops the user generated rankings, perplexingly.  It's a sci-fi heavy collective, though, so maybe fanboys are just protecting their own.
One of the choices, which gets some dedicated copy, is a challenge I'd love to see some intrepid filmmaker take on — William Gibson's cyberpunk-birthing "Neuromancer."
Here is what Thill had to say on that:
With a hacker antihero in Case, and a supporting cast made up of unhinged cyborgs and desperate gangsters, Gibson's award-winning page-turner rebooted not just speculative fiction, but sci-fi cinema as we know it. He's even rebooted himself: His not-great 1995 adaptation of Johnny Mnemonic, starring a clumsy Keanu Reeves, was upgraded into a mirrored money-machine called The Matrix. And yeah, that ended clumsily as well, but it all points out the obvious.

William Gibson is due. He's so due.

We need to live in a century where William Gibson helps turn Neuromancer into a better film than the three made by two Wachowski brothers hypnotized by the meatspace merge. That century is now, actually: Neuromancer has been on Seven Arts Pictures' front burner for around a year now, and looks set to roll with Torque director Joseph Kahn in the hot seat.
Of course, I'm as terrified as you are by that last bit.  What about you?  What volumes do you consider to be "unfilmable" and why?