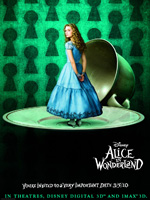 From Disney:
Be the First to See the ALICE IN WONDERLAND Teaser Trailer!
The Loyal Subjects of the Red Queen, the Loyal Subjects of the White Queen, and the Disloyal Subjects of the Mad Hatter are all building armies on Facebook. The fan page with the biggest army at 4PM PDT on Thursday, July 23 will get to see an exclusive new trailer from Disney's ALICE IN WONDERLAND before anyone else.
So be sure to log onto Facebook and choose a side.
The Loyal Subjects of the Red Queen: www.facebook.com/RedQueenSubjects
The Loyal Subjects of the White Queen: www.facebook.com/WhiteQueenSubjects
The Disloyal Subjects of the Mad Hatter: www.facebook.com/MadHatterSubjects