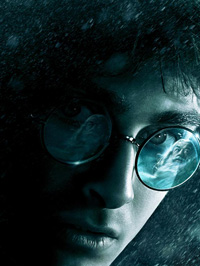 *All historical figures are adjusted to today's dollars.
To the surprise of no one, "Harry Potter and the Half-Blood Prince" was the number one movie at the box office this weekend with $79.5 million. The film made an additional $80.1 million on Wednesday and Thursday, so Daniel Radcliffe and company have just under $160 million in the bank after five days. Comparisons to other Potter flicks are pointless except the previous entry since it was the only other film to debut on a Wednesday in the summer.
"Order of the Phoenix" opened in 2007 to $80.5 million over three days and $146 million for five. This latest installment already seems a bit more front-loaded, so I think we might be looking at a total gross in the same ballpark as the $288 million for "The Prisoner of Azkaban," which is currently the lowest earner of the franchise. But with worldwide sales, DVD and merchandise, every film in this 8-part series is worth about a billion dollars each to Warner Bros., so any scrutiny on the numbers is irrelevant.
"Ice Age: Dawn of the Dinosaurs" holds on to second place for the third week in a row by dropping 36% to $17.7 million. A fourth film is already in the works where the three prehistoric friends get frozen and then thawed out in modern times for a museum exhibit. So, basically, it's "Star Trek IV" with woolly mammoths. Where do I start the line?
"Bruno" dropped a brutal 73% to fourth place and $8.4 million. In terms of major wide releases, only "Gigli," "Friday the 13th," "Star Trek: Nemesis" and George A. Romero's "Land of the Dead" have lost more of their opening weekend audience. As I mentioned in last week's piece, though, this was not unexpected and won't keep Universal from making a tidy profit on their investment.
"I Love You Beth Cooper" held up relatively better with a 46% dip, but when your debut is so weak, it hardly matters. Another $2.7 million still only translates to a $10.3 million total and that much was probably spent on prints and marketing alone. The high school teen movie needs a makeover, and I think Tapley is just the man for the job. (If you'd seen his short film in college you would agree. Get that thing on YouTube, Kris!)
The biggest story of the weekend might be Fox Searchlight's "(500) Days of Summer." Quirk is Searchlight's specialty and they were able to pimp out this package to the tune of $838,000 on only 27 screens. That's the fourth best per theater average of the year behind "Sunshine Cleaning," "The Hurt Locker" and "Away We Go." "Summer" is the most mainstream-friendly of that bunch so the final tally should be well past $10 million if Searchlight plays its cards right (which it always does).
This week, I didn't see anything in the theater because it was my girlfriend's birthday and she cleaned me out of house and home. It'll be weeks before I can splurge on a night at the Arclight again. I'm bummed to have missed the one week only L.A. run of "The Beaches of Agnes," though.
Next week is a depressing hodgepodge of mid-summer titles. "G-Force" will probably lead the pack since computer generated talking animals are as much box office gold as swinging, singing penises are poison. I mean, if box office "Beverly Hills Chihuahua" can make $29.3 million, then super spy guinea pigs should be able to hit $35 million.
No matter how many hits they're in, it seems like Katherine Heigl and Gerard Butler are still in search of their A-list cards as they team up for "The Ugly Truth." "The Proposal" is running out of steam so there's room for another stale romantic comedy.  I can see $18-$20 million for this. But if you want to save your $10, I'm pretty sure they learn to love each other by the end.
Finally, Warner Bros. bravely tries to find success in the summer with the horror crowd and "Orphan." Sam Raimi couldn't lure them away from the beach or summer school or wherever they disappear to for four months and so it's hard to imagine that Peter Sarsgaard and Vera Farmiga will be able to do it. Anything more than $11 million would be a big win here.
What do you guys think?  Here are the weekend's top 10 domestic grossers, courtesy of Exhibitor Relations: