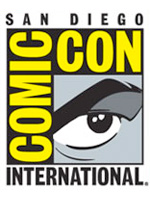 Like the rest of the web geek world, I guess, I'm gearing up for this year's San Diego Comic Con International, which begins with preview night on Wednesday.
All eyes, of course, are on Thursday's slew of events, a treasure trove of goodies that made for a ton of Sophie's choices when putting together my personal schedule.  I'll definitely be at the Disney panel, with glimpses of Robert Zemeckis's "A Christmas Carol" in 3D and a taste of Tim Burton's "Alice in Wonderland," among other things.  Speaking of 3D, perhaps the most anticipated panel will be James Camerons "Avatar" event.  I'm definitely looking forward to that, but the likely crowd of humanity that will be doing same?  Not so much.  Trying to wrangle some VIP consideration as we speak.
The Peter Jackson-produced "District 9" isn't as high on my to-do list as most, but I'll probably park it for Paramount's "Iron Man 2" Panel on Saturday.  The film just wrapped a 72-day shoot over the weekend, by the way.  Warner Bros. also has a panel, on Friday, but Spike Jonze's "Where the Wild Things Are" is the only thing that has me interested there.  Focus Features also plans a considerable presence with "Coraline" (the Blu-ray and DVD of which hits shelves tomorrow) and "9."
Oh, and Terry Gilliam's "The Imaginarium of Doctor Parnassus."  I suppose I should check that out.
Otherwise, it's all about the geekdom.  There are a ton of Batman events planned this year, everything from a 20th anniversary retrospective on the 1989 film (which one would think Burton would be in on that action, since he'll be there, but I've read nothing along those lines yet) to aa discussion on forensic psychiatry and the Dark Knight's Rogues Gallery.  I'll do as much as I can.
On Friday there's a production designers discussion that I feel an obligation to attend, given our coverage of the crafts categories here at In Contention.  Scott Chambliss, Nathan Crowley and Alex McDowell will be in attendance.  Should be somewhat enlightening.  I may also take in some TV stuff — "Dexter," "Lost" and, yes, "The Big Bang Theory" — just to mix things up.
So much to do, so little time.  One thing is for certain: I'm staying clear of any and everything with the words "New" and "Moon."