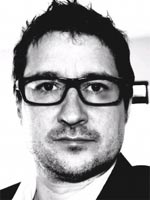 It has been a very long time since I sat myself down in a wooden pew, but I think it's safe to say that the last church recital I attended didn't begin with a speech by a rebel auteur from Brooklyn, didn't involve any electric guitars, and it certainly wasn't accompanied by video imagery of Mickey Rourke. But then, the last church recital I attended wasn't by Clint Mansell.
A short stroll from my home in quiet North London, the Union Chapel is a converted (but still active) Victorian church that moonlights as an alternative music venue — perhaps the city's loveliest — and tonight it played home to the extraordinary film composer and his musical cohorts.
A cosy, candle-lit suburban chapel may seem a slightly odd setting for an evening that was largely devoted to the considerably harsher screen worlds of Darren Aronofsky, whose Mansell-penned film scores formed the bulk of the evening's program, but it quickly proved a comfortable one.
The hushed, reverent ambience automatically instilled by a church setting not only complemented the sombreness of Mansell's compositions, but the austerity demanded attentiveness — as much as I'd admired them both inside and outside their respective films, I've never had to listen to Mansell's dense soundscapes quite so immersively as I did tonight.
The big showstoppers were appropriately spectacular: backed by crashing percussion and the swelling strings of his new Sonus Quartet, the now-ubiquitous "Requiem for a Dream" theme "Lux Aeterna" reclaimed its individual identity from a swarm of imitations and interpolations in the worlds of film, pop and advertising, taking on a near-spiritual intensity in this context; Kris recently suggested Mansell's work on "The Fountain" could be the score of the decade, but "Requiem" has to be a contender too.
But less-heralded material proved revelatory in a performance context too: an extended suite from his recent work for "Moon" proved wittier and rangier than what I'd remember from a recent viewing of the film, while a porcelain-fragile piano excerpt from "The Fountain" got more than one grown man in the audience misty-eyed.
Most striking was the extreme diversity that results from condensing his film oeuvre into a single recital: it's a long musical journey from the clattering electronica of "Pi" to the sparse Americana of "The Wrestler."
Belying the aloof eccentricity that the music might lead you to expect of its creator, Mansell himself was an affably bloke-ish presence on stage, charming the audience — a healthy mixture of academic types and indie kids, among whom I spotted several film critics and someone who was either pop ingenue Little Boots or her twin sister — with a selection of artless anecdotes delivered in a hearty Midland accent. ("It's just nice to be out the house," he noted midway through the evening.)
"I wrote this when I was at a bit of a low ebb, living in Darren's suicide loft," he explained before launching into the "Requiem" piece. "So you know why it's a bit grim." The circumstances that brought about Mansell and Aronofsky's collaboration were discussed by both composer and director — in an introductory speech, Aronofsky explained that  the moment he realized he could work with Mansell was when the composer unexpectedly named John Carpenter's work on "Halloween" as his favorite film score of all time.
Aronofsky, in fact, seemed markedly more chipper than the last two times I've seen him in person — he's clearly happier when he's not the focus of conversation, and his evident pride in Mansell and their collaborations was lovely to see. (Interestingly, a third collaborator was also present onstage — Brian Emrich, the sound designer for all Aronofsky's film, is the bass guitarist in Mansell's outfit.)
"Screw the Oscars, screw the BAFTAs," Aronofsky said cheerfully at one point in his introduction. "Clint is the best." Blame it on the candlelight, but after this beautiful evening, I see no reason to disagree.