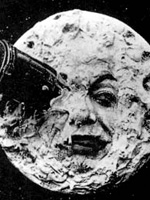 Today marks the 40th anniversary of the Apollo 11 moon walk.  But I'm having trouble drumming up any real feeling about that since it really hasn't meant a damn thing since.  We never went back with any real initiative, the space program has stalled for the most part and never seems to break any new barriers and, yeah, I actually put some level of stock into the idea that we never went there in the first place.
Don't get pissy with me.  I guess we could look at the tapes again.  Oh, wait.  NASA "lost" them and "probably taped over" them.  That ought to get the conspiracy theorists' hearts racing.
But seriously, I can't say the occasion is particularly moving.  It doesn't feel like it has meant anything in the grander scheme.  The "ours is bigger than yours" mentality that drove us to seek out a moon-landing in the first place doesn't really register these days.  Maybe I'd feel different if I were there, in the moment, feeling the vibe, etc.  But from this perch, it's not moving the needle.  Just me.
Don't tell Buzz Aldrin, though:
The occasion is marked by outlet after outlet this week.  In the pages of The New York Times, John Strausbaugh writes up the centuries-old fascination with a moon landing in fiction, fables and film that preceded the Apollo 11 mission, while Jeffrey Kluger has the Time Magazine cover story (with some peripheral discussion on the conspiracy theory stuff).
(More fun after the jump.)