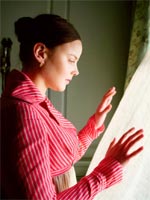 It slipped my mind to update the Oscar nomination predictions I made in early June, which were looking sorrily outdated with a scant 5 Best Picture nominees. (What a difference a month makes!)
Anyway, if only to get with the 10-strong program, it was time for a midsummer tidy, so my updated predictions can be found here.
Aside from doubling my Best Picture ranks, I've limited myself to mild tweaks elsewhere — after all, with most of the big players still unseen, I'm as clueless now as I was before. As I said back in June, I believe in having fun at this early stage in the game, so I've retained a few wildcard inclusions and omissions.
Admittedly, the expansion of the top category make said snubs even more far-fetched, but I'm sticking to my largely unfounded hunch that the voters will groove to softer, more independent fare ("Bright Star," "An Education") this year, while something like "Invictus" may find itself among the critical casualties of the season.
(Meanwhile, to compensate for my neglect of the studios, I took a last-minute punt on Nancy Meyers' December Meryl Streep vehicle finding favor with the Academy's middle-aged middlebrow. If it takes off with the public, a combination of goodwill and short memories could have terrifying results.)
And I've finely gone onto that slender limb and predicted three female nominees for Best Director. Why not? What's summer without a bit of silliness, after all? If it's common sense you want, that's what Kris is for.