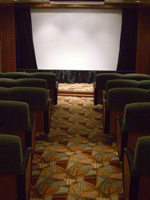 This will be a lot of inside baseball that many of you just don't care about.  For that, I'm sorry, but sometimes you have to get something off your chest.
A guy like me has little to nothing to complain about when it comes to screening films in Los Angeles.  I see films early, free, in a comfortable setting and, generally, with no hassle.  But in the nearly five years I've been in this town, a growing frustration has set in that finally snapped the camel's back in half yesterday: poor screening room facilities.
Last night I settled in for a screening of Shane Acker's "9" (which is under embargo at the moment — more from Comic-Con, I'm sure).  It was at the Sunset Screening Room over on the strip, a facility I've been to maybe two or three times.  Studios tend to shy away from booking there, it seems.  Early on in the first reel, it became apparent there would be an annoying sound issue.
I'm not aural expert by any means, but it sounded to me like a channel kept dropping out, forcing an uneven quality to the film's track throughout.  For a couple of minutes it would be a muffled, low end kind of thing with some irritating "warbling" (best way I can describe the sound) and then — BOOM! — the sound would kick back in properly and the elements were suddenly loud and invasive.
This went on throughout the film, back and forth.  I thought about getting up and saying something to the projectionist, but it sounded like something that would need to be calibrated without a screening going on, plus, it's a small room and I didn't want to disturb any of my colleagues.
How is this kind of thing acceptable?  By and large, the most ideal screening situation is in a theater on a studio lot, which is painstakingly calibrated for obvious reasons.  The Paramount Theater, for instance, is probably one of the best sounding theaters I've ever been to.  But a studio screening isn't always possible so renting out one of the many rooms in town becomes a necessity.  But if you ask me, there is no excuse for this kind of poor attention to detail on the part of screening room owners.  Especially when you consider the hourly rates these places charge (which skyrocket during the Oscar season).
Every room in town has issues.  The Wilshire room has that "warble" thing, the Aidikoff — one of the cheaper rooms — feels like it was an add-on to someone's mobile home (though the candy almost makes up for it), the Interactive room on Sunset has chairs that put you in the lap of the folks behind you (and is frequently booked to uncomfortable capacity by Sony Classics, but that's fine), etc.  The Clarity is probably the best of these privately owned and operated rooms, which is why studios often choose it for cocktail receptions and the like.
But with the amount of money these things pull in, how hard is it to make sure your equipment is, at the very least, functioning properly?  It's a disservice to studios and filmmakers, to be sure, since it is affecting the experience of viewers who review these things.  A film like "9" has a rather complex soundtrack, mixing bombastic score with numerous sound effects elements.  When something like last night's issue arises, it makes the screening a chore.  That's bad news.
Nothing frustrates me more than poor upkeep of distribution facilities (which can be downright unbearable for some chain theaters, of course).  It's an element of the process that is, unfortunately, out of the filmmaker and studio's hands, but it's a real issue.  And it speaks to a certain level of laziness that, quite frankly, defines where we're at as a society.
So, my message to Los Angeles screening room owners: take some pride in what you do.  You make enough money to have functional facilities.  Reach into your wallet and deal with it.