Thanks to the combined efforts of Lars von Trier and Wes Anderson, 2009 should hold a unique place in cinematic history as the year that brought us not one, but two screen depictions of talking foxes.
The films they appear in couldn't be any more different, though after looking at these two new stills (courtesy of Filmsactu) from Anderson's "Fantastic Mr. Fox," I find the woodland critter who pops up halfway through "Antichrist" to reassure us that "chaos reigns" less unsettling than these zombified-looking stop-motion creations.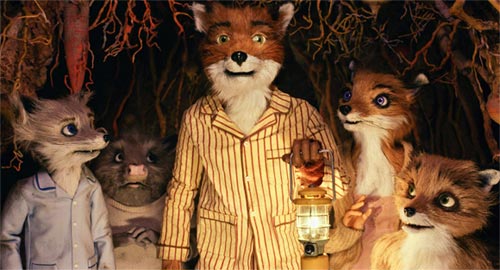 (More thoughts, and a second still, after the cut.)
I kid. As a lifelong Roald Dahl fanatic, I'm pulling for this film to join "The Witches" on the lonely platform of interesting Dahl adaptations — and if it means my first happy encounter with a Wes Anderson film, so much the better.
Its credentials are immaculate, including input from writer Noah Baumbach, composer Alexandre Desplat, design genius Alex McDowell and, of course, that handpicked voice cast — which includes everyone from George Clooney to Jarvis Cocker. (Though why are several sources crediting Cate Blanchett and Meryl Streep — didn't the latter step in for the former?)
Not even Pixar can boast that kind of hipster cred, which makes the film's position in the awards race an interesting one. Since the Best Animated Feature Oscar was born, there has usually been one animated contender each year that boasts a slightly more elitist, arthouse-straddling cache, though the Academy's reaction to such films has been inconsistent: "Waltz With Bashir" couldn't even secure a nomination, but "Spirited Away" went all the way to the winner's circle.
This year, however, sees a number of semi-highbrow titles — "Fantastic Mr. Fox," "9," "Coraline," "Ponyo" — jostling for the position of cineaste's choice, and that's without the universally esteemed "Up" to contend with.