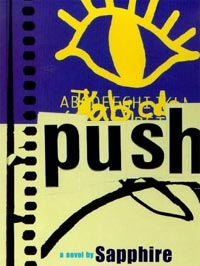 As is clear from their determination to cling to the ungainly handle "Precious: Based on the Novel Push by Sapphire," the team behind the upcoming big-screen adaptation of New York poet Sapphire's well-regarded 1996 novella are keen to acknowledge the film's literary heritage. (And not just because a lousy February release stole their original title.)
It's not surprising. "Push" was a minor publishing phenomenon in the 1990s that has since become a solid modern entry in the canons of both African-American and youth literature – the book wears its debt to Toni Morrison and Alice Walker proudly on its sleeve – so the film obviously wants to announce itself to Sapphire's devoted readership.
More subliminally, however, I suspect the film's prominently advertised literary cache aims to differentiate it from any number of urban-leaning titles with similar themes but minimal artistic cred – and to lend it a varnish of prestige to awards voters wary of the subject matter.
A glance at the bare-bones synopsis for "Push" or "Precious" – illiterate, physically and emotionally abused Harlem girl recovers sense of self-worth thanks to inspirational teacher – offers little indication of how the final work will be superior to Hollywood schlock of the "Dangerous Minds" ilk, or even Lifetime TV territory. (On the surface, this could easily turn into a facsimile of "Life is Not a Fairytale: The Fantasia Barrino Story," minus the eventual fame and fortune.)
Sapphire's terse, tight little book proves itself a cut above such middlebrow issue-mongering by virtue of its confrontational prose style (not a page goes by without a colourful scattering of "fucks," "pussies" and "cunt buckets") and graphic, unflinching description of the physical and sexual suffering endured by its teenaged female protagonist.
Meanwhile, the rapturous acclaim heaped upon Lee Daniels's film thus far suggests that the author's eye-watering candor hasn't been diluted in the translation to celluloid. Perversely, the film's success depends on it being as prickly a watch as the book is a read. (I'd say "difficult," but that could be misconstrued: even light readers can polish "Push" off in an afternoon.)
With that said, there's a part of me that hopes "Precious" isn't quite as reverent to its source as the title suggests, because there's much about "Push" to raise concern when it comes to a big-screen adaptation: for all its stylistic verve and thematic explicitness, the book sometimes sinks into slightly banal up-with-people moralizing that, while irreproachable in intention, threatens to flatten any dramatic tension whatsoever. (By the final act, the abundance of group therapeutic confessionals pretty much puts paid to inter-character conflict.)
The film would do well to prioritize sentiment over such sentimentality – though the executive-producer presence of Oprah Winfrey could set sceptics' alarm bells ringing, there's more than enough steel in the material to deflect concerns of the ersatz emotion generally associated with Winfrey's brand.
Happily most of this nerve comes from the character of Precious herself, who, while often wincingly inarticulate, has an alert, volatile and sometimes surprisingly witty voice (the book is largely written in the first person) that balances the author's occasional faint sanctimoniousness. The two do blur in some moments, leading Precious to spout conscientized liberal rhetoric that doesn't quite seem consistent with her naïvely Farrakhan-worshipping self. (The book is set in the late 1980s, though I'd question whether the film couldn't have more immediacy to its audience by updating the proceedings.)
Such lapses aside, it'll be interesting to see how Precious's voice translates to film, given that the book is written in a highly (occasionally impenetrably) vernacular stream-of-consciousness style that appears to lend itself strongly to voiceover, given that she's an externally silent presence.
Though a complex character with a raft of aggressively expressed insecurities and prejudices that thankfully elevate her beyond the realm of sainted, faceless victim, newcomer Gabourey Sidibe should nonetheless benefit from the narrative's irresistible stacking of audience sympathies in her favour — Precious endures more unwarranted suffering than any recent film character I can recall.
Unfortunately, characterization elsewhere in the novella proves rather more one-note: Precious's nurturing, straight-talking teacher Blue Rain (presumably based to an extent on Sapphire herself, and prettified in the film's casting choice of Paula Patton) is likable enough, but has little individual identity outside the literary/cinematic mold that gave us the dedicated educators of "To Sir With Love" or "Stand and Deliver."
Meanwhile, one assumes the character of social worker Ms. Weiss has been slightly expanded for Mariah Carey from the book's pair of late, largely reactive scenes. (Equally, I presume Lenny Kravitz's character is an invention of screenwriter Damien Paul, given that men are in short supply in Sapphire's prose.)
Most eyes, however, will be on the character of Precious's mother Mary, whose inhabiting in the unlikely shape of Mo'Nique is the bedrock of the film's critical adulation and Oscar hype. Mary certainly makes an imposing villain in the novel's early stages, spewing verbal venom and launching unprovoked physical attacks on her daughter with electric extremity, but without having seen the film's (and the actress's) interpretation of the character, she risks one-dimensionality on the page.
Multiple reviews of the film cite a devastating concluding soliloquy for the character which, if not redemptive, puts her behavior in context; I'm guessing, then, that Paul and Daniels have expanded on Sapphire's characterization here, given that an equivalent scene in the book offers intriguing hints of weakness, but ultimately closes off our emotional access to Mary (barely present, by the way, for most of the novel's latter half) even more decisively.
Beyond an apparent slam-dunk awards-season for Mo'Nique, reading "Push" does little to illuminate what path the film might take upon its release in November, given that an adaptation of the source material perches on the precipice between two sub-genres not exactly predisposed to universal audience (much less Academy) acceptance: touchy-feely urban melodrama and brutal domestic realism.
Reviews for "Precious" suggest the latter course thankfully won out, but viewers and voters outside the book's core demographic will likely need persistent persuading from critics. Those of us simply concerned with cinematic rewards, meanwhile, will simply hope that Daniels and his collaborators have matched the depth and intensity of feeling in this often artless but unavoidably affecting book.