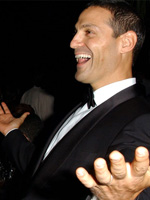 It's exciting times in my house these days, what with "Entourage" hitting the small screen for season number six Sunday night.  The series makes for my weekly dose of Hollywood escapism, paradoxically right here at ground zero.  The obsession is, of course, owed in no small part to Jeremy Piven's Emmy-winning portrayal of super agent Ari Gold, a composite sketch of real life player Ari Emanuel.
Emanuel has been getting plenty of media attention lately (well, more than his usual helathy dose of press limelight).  The merger of his Endeavor agency with William Morris a few months ago (forming mega-conglomerate WME) led to a front-page New York Times profile last month, chocked full of the usual array of anonymous sources and, it should figure, no comment from Emanuel.  And now in the pages of London's Independent newspaper (a number of weeks behind the curve) comes a new look at the Hollywood maestro.
The piece, from regular Independent contributor Guy Adams, is frustratingly bogged down by similar anonymous sources that paint the canvas with the expected tint of agenda and speculation.  There are even journalists quoted, which, personally speaking, is a bit tacky.  Do a little digging, Mr. Adams.  But while all the months-old discussion of the WME particulars are still somewhat interesting, it's the bits dedicated to Ari GOLD that are more captivating:
That character's behaviour and manner are best described as a caricature rather than a carbon copy of the real Ari, who in his younger days was often described as volatile but is said to have mellowed substantially in recent years.

But it may have at least some factual basis. In 2002, an Endeavour employee called Sandra Epstein filed a sexual harassment lawsuit claiming that daily life at the company saw rampant pot-smoking, bullying, sexual frolics on desks, and one agent demanding that his assistants book prostitutes for him.

The lawsuit claimed that Emanuel once blocked her from sending a script about the Navy Seals to the actor Wesley Snipes, saying "That is the dumbest thing I've ever heard… Everyone knows that blacks don't swim." Though the case was settled on undisclosed terms, Emanuel has denied any allegations of racism. Indeed, as a prominent member of the Jewish community – who said Hollywood should "shun" and "refuse to work with" the anti-Semitic Mel Gibson – he boasts a track record of opposing stereotyping.
Of course Emanuel's shenanigans aren't the only intriguing thing about the man.  He is, after all, one of a trio of brothers successful in an array of professions.  Rahm Emanuel, of course, is Barack Obama's Chief of Staff, while Ezekial is a bioethicist and oncologist.  Charlie Rose (who is part of Ari Emanuel's diverse stable of represented talent) interviewed the brothers in a captivating edition of his television show last year.  In part:
The new season of "Entourage" airs on HBO Sundays at 10:00pm.  WME, meanwhile, is angling for a takeover of the universe.