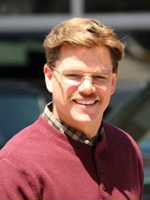 The Co-Directors of the Toronto International Film Festival took to the stage this morning at the first of three summer press conferences to begin announcing the slate of films that will comprise this, the 34th annual Toronto International Film Festival.
This morning's announcement of 22 titles brought some pleasant surprises, as well as some expected announcements.
The Opening Night Gala will be Jon Amiel's "Creation" featuring Paul Bettany as Charles Darwin and Jennifer Connelly as his wife.
There were several Gala Presentations announced, among them "Get Low," a film featuring the great Robert Duvall as Felix Breazeale, a backwoods eccentric who exiles himself from society for more than 40 years. Bill Murray and Sissy Spacek co-star with Oscar winner Duvall.
As expected, Lee Daniels's festival circuit hit "Precious" will land in Toronto, already an Oscar contender, as well as "The Invention of Lying," directed by Ricky Gervais and Matthew Robinson.
Jane Campion's "Bright Star" will be here, it's very announcement making it one of the hottest films coming to TIFF, as will "The Boys Are Back" from director Scott Hicks. Clive Owen stars as a recent and suddenly widowed man left to raise his two sons without his wife.
From China comes "City of Life and Death" from director Lu Chuan, while festival favorite Steven Soderbergh will be here with his "The Informant!," which looks like awards bait for star Matt Damon. Tim Blake Nelson will bring "Leaves of Grass" with Edward Norton portraying twins, and director Bruce Beresford will bring us "Mao's Last Dancer," based on the international best seller about a ballet dancer who after years of training leaves China at great risk.
Colin Farrell returns to the festival in "Ondine" as an Irish fisherman transformed by a woman he catches in his net. Oscar winner Michael Douglas will also be here with "Solitary Man," a film that includes Danny DeVito, Susan Sarandon and Mary Louise Parker.
"Valhalla Rising" looks interesting, set in 1,000 A.D. and dealing with warring Norsemen aboard a Vking vessel. Directed by Nicholas Winding Refn, the film is a co-production of Denmark and the United Kingdom.
And Johnny To will be here with his new film "Vengeance," a moody thriller from Hong Kong and France.
Expect announcements once a week for the next couple of weeks, one for the Canadian film list and the final kick off to include all the films and the stars coming.
Full list of added titles:
"The Boys Are Back" (Scott Hicks)
"Bright Star" (Jane Campion)
"City of Life and Death" (Lu Chuan)
"Cracks" (Jordan Scott)
"Get Low" (Aaron Schneider)
"Hadewijch" (Bruno Dumont)
"The Informant!" (Steven Soderbergh)
"The Invention of Lying" (Ricky Gervais, Matthew Robinson)
"Leaves of Grass" (Tim Blake Nelson)
"London River" (Rachid Bouchareb)
"Mao's Last Dancer" (Bruce Beresford)
"Max Manus" (Joachim Ronning, Espen Sandberg)
"Moloch Tropical" (Raoul Peck)
"Mother" (Bong Joon-ho)
"Ondine" (Neil Jordan)
"Partir" (Catherine Corsini)
"Precious" (Lee Daniels)
"Scheherazade Tell Me a Story" (Yousry Nasrallah)
"Solitary Man" (Brian Koppelma, David Levien)
"Valhala Rising" (Nicolas Winding Refn)
"Vengeance" (Johnnie To)
"The Vintner's Luck" (Niki Caro)