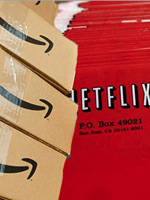 If you don't have a Roku player and you're a movie lover, you're missing out.  It's a $99 item (also built in to the XBOX 360) that allows you to stream your instant Netflix cue directly.  Seriously, your movie mecca is limited only by the Netflix catalog.  Bliss.
Another feature of the Roku, however, is the ability to log on to your Amazon.com account and stream content from there as well, which could come in quite handy with some of these VOD releases that pop up on Amazon for purchase prior to theatrical release, like Steven Soderbergh's "The Girlfriend Experience" did recently.
Now there is talk that Amazon, already devouring everything in its path (and in most cases, for the better), might actually buy Netflix.  Speaking as a consumer, I'm all for it.
Jeff Kearns and Meg Tirerell are co-bylined on this Blookmberg piece addressing the rising speculation that a share takeover is imminent.  They get some interesting insight from those who think it's a bad business move, however:
The Los Gatos, California-based company is an unlikely target for Amazon.com because it has distribution centers across the U.S., Wedbush Morgan Securities analyst Michael Pachter said. With such locations, Amazon.com would have to collect sales tax in those states, raising the customer's cost, Pachter said in a telephone interview today.

"Suddenly in a whole bunch of states Amazon finds itself taxable," said Pachter, who recommends buying Netflix shares and doesn't rate Seattle-based Amazon.com. "It would kill their core business."
I can't comment on that because the market remains a blind spot for me.  Yeah, I have a few shares of this or that stock, but this stuff makes my head spin.  But the logic makes sense, I guess.
Just speaking broadly, however, it seems to me an Amazon takeover of Netflix would be one step closer to the streamlined entertainment universe I dream about.  I'm already on Amazon throughout the day, making the best of my Prime account with free two-day shipping of this amazing deal or that.
The Amazon purchase of IMDb didn't move the needle much on the outside (though I'm sure advertising revenue has been a boon), but this, considering Amazon's business model, would really work.  Digital streaming is making a solid impact and as a consumer destination outlet, the company would be wise to keep considering that future.